Daniela Cardim is a Brazilian/British choreographer and director based in London. Born in Rio de Janeiro, she danced with Ballet do Theatro Municipal do Rio de Janeiro and with Dutch National Ballet, in Amsterdam.
Daniela has a first class BA degree in Arts Management. She worked as Company Manager at NEBT from 2013 to 2020, and and has been Assistant Director since early 2022.
Her choreographic commissions include works for Birmingham Royal Ballet, Dutch National Ballet (main and Junior companies), West Australian Ballet, Poznań Opera Ballet, Theatro Municipal do Rio de Janeiro, São Paulo Companhia de Dança, English National Ballet School, Dutch National Ballet School, School of American Ballet (as part of the New York Choreographic Institute), Elmhurst Ballet School and the Liverpool Institute of Performing Arts, as well as five commissions for NEBT.
Prior to our upcoming premiere of Genesis Dance Project and New Works, Daniela has talked to us about her most recent commissions and her contribution to our autumn programme, Baroque Encounters:
2022 has been a successful year for you as a choreographer. Can you talk us through how the year developed for you?
2022 was a fantastic year for me as a choreographer. I choreographed four new works and they were all really well received, for which I am very grateful.
In February, my piece Reset for the West Australian Ballet premiered at the Quarry Theatre in Perth to critical acclaim, and they did 16 performances! Reset was inspired by composer Gabriel Prokofiev. Gabriel's fusions of classical and electronic music create a unique contemporary sound, which made me think that themes of modern life and human interactions would be the natural inspiration for a piece set to his music. The WAB dancers are amazing and we had a lot of fun creating this piece.
In June, my pas-de-deux Nocturne for NEBT premiered at the ROH Linbury Theatre as part of NEBT's run at the Next Generation Festival. In this work I explored the theme of a couple dealing with loss and grief while trying to carry on. It was inspired by a very personal experience, and the creation process was very fluid with the dancers, so this work is very close to my heart. 
In August I created a piece as part of the Royal Ballet School's Summer Intensive Programme. I had almost 30 female dancers, so I had to approach this work from a different angle. I wanted them all to feel unique even in such a large group, so we worked with text, improvisation and mini solos. It was a great experience for us all and I think the dancers took a lot from the creative process, which was my intention. 
And finally, in November my piece Stabat Mater for the Poznań Opera Ballet premiered in Poland. This was a challenging project, as I was asked to use the very poignant music from Polish composer Karol Szymanowski. The score was inspired by a 13th-century Christian hymn, which portrays Mary's suffering during Jesus' crucifixion. I made a parallel with the theme of mothers who lose their sons to war. I knew I was taking a massive risk when I chose this theme, but I felt this was really what the music was 'asking me' for. Luckily the risk paid off and the shows were a massive success. I was recently nominated for a prize for this work and I am so grateful for the recognition of not only my work, but also the entire creative team and the dancers. It was a wonderful collaboration.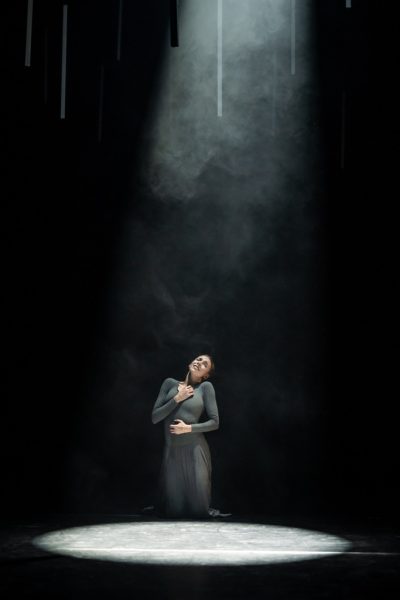 What is your main inspiration for Baroque Encounters, the piece you are creating for NEBT's upcoming autumn programme?
I am so excited to be creating this new work for NEBT! As it often happens, I am taking inspiration directly from the music. Bach's music is so rich, full of pomp, layers and details. So I am exploring how these themes translate into dance, how they can inspire steps, patterns and relationships on stage.
What are you looking forward to most in the rehearsal process?
I am looking forward to working with the NEBT dancers and seeing how, together, we can find what the piece is really about. It is one of those projects where I know we will find the right direction as we develop the piece, rather than me bringing a formed idea or direction right from the beginning.