This season is dedicated to the memory of our late ballet master, Patrick Hinson.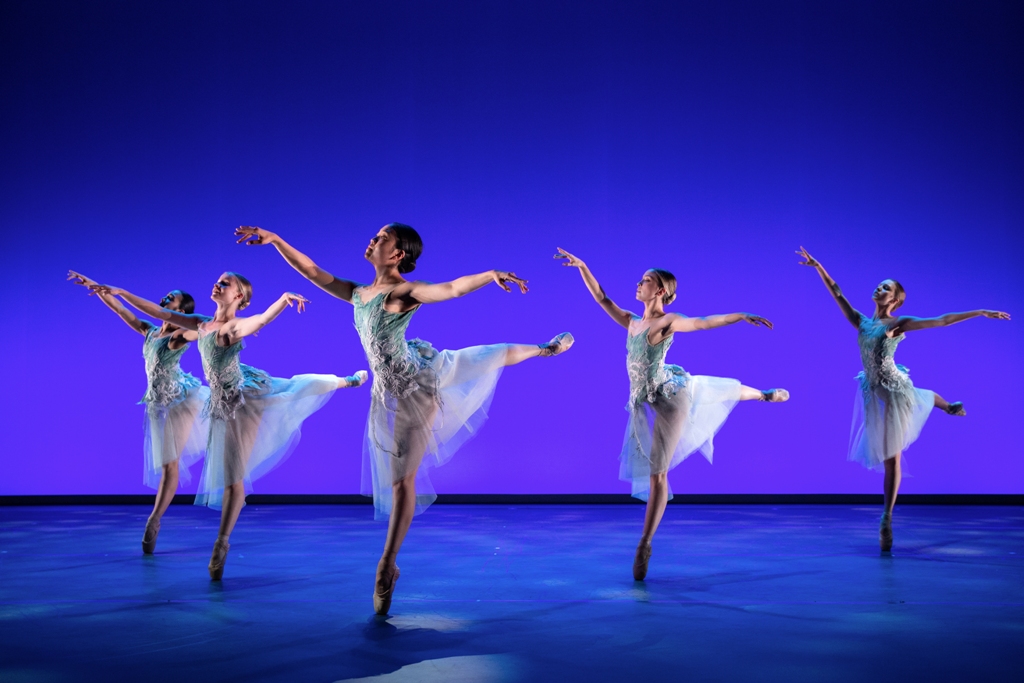 Into the Spotlight: Female ChoreograpHERs
One of the season's highlights was the Royal Opera House's Next Generation Festival at the Linbury Theatre on the 17th and 18th of June. NEBT was invited to present Into the Spotlight, a programme of works celebrating female choreographers.
It included Domino by Ruth Brill, Rosamunde by Morgann Runacre-Temple, an extract from Jenna Lee's stylish ballet The Four Seasons, featuring Max Richter's dynamic re-composition of Vivaldi's masterpiece, as well as three brand-new works by Daniela Cardim, Kristen McNally and Georgie Rose.
"…the company look in fine fettle, maybe as good as I've ever seen them. It was an evening of varying colours, from emotionally intense and thoughtful to fizzing like the best English sparkling wine…" – David Mead (Seeing Dance)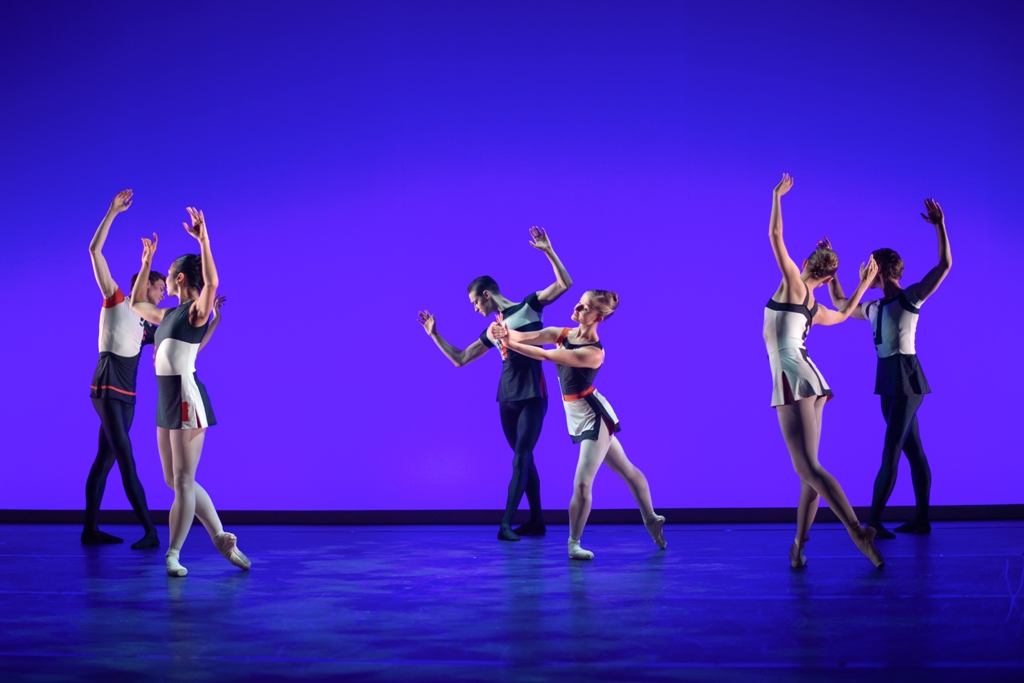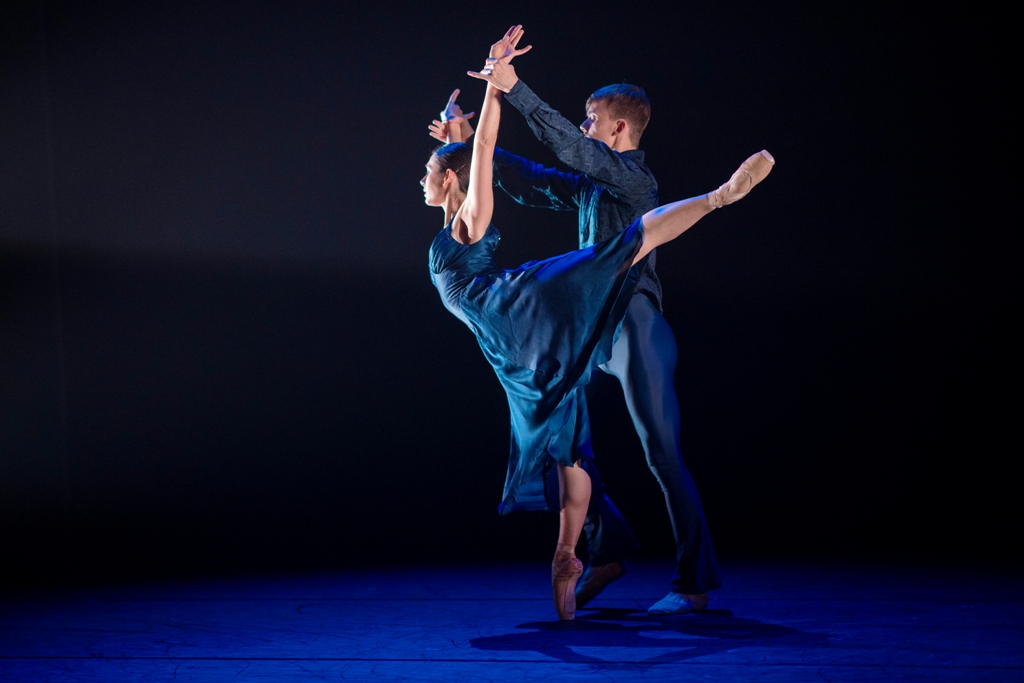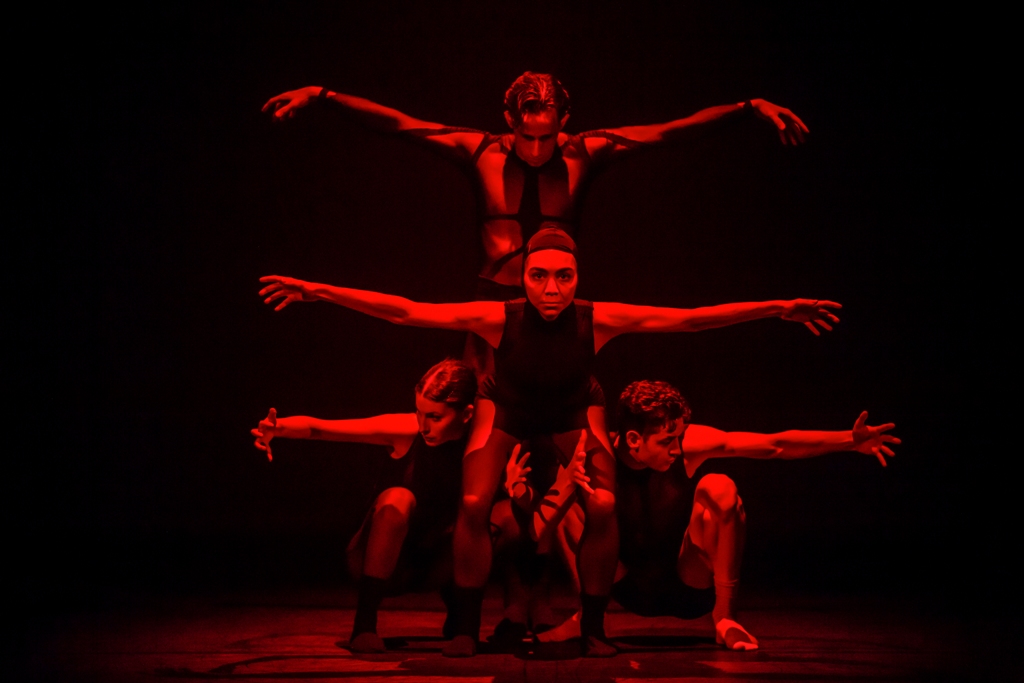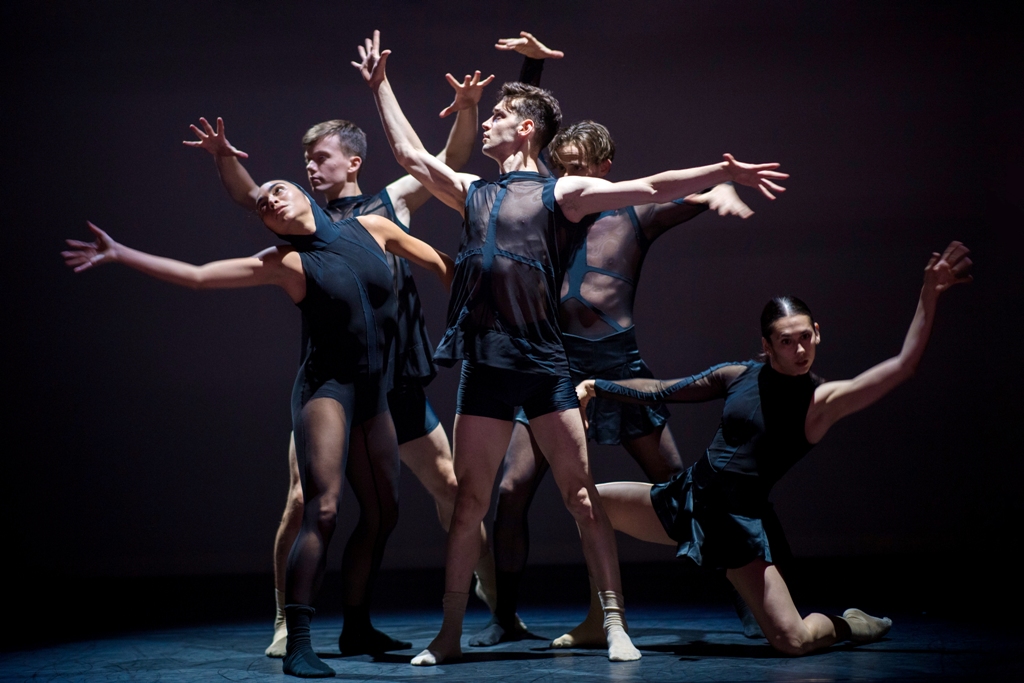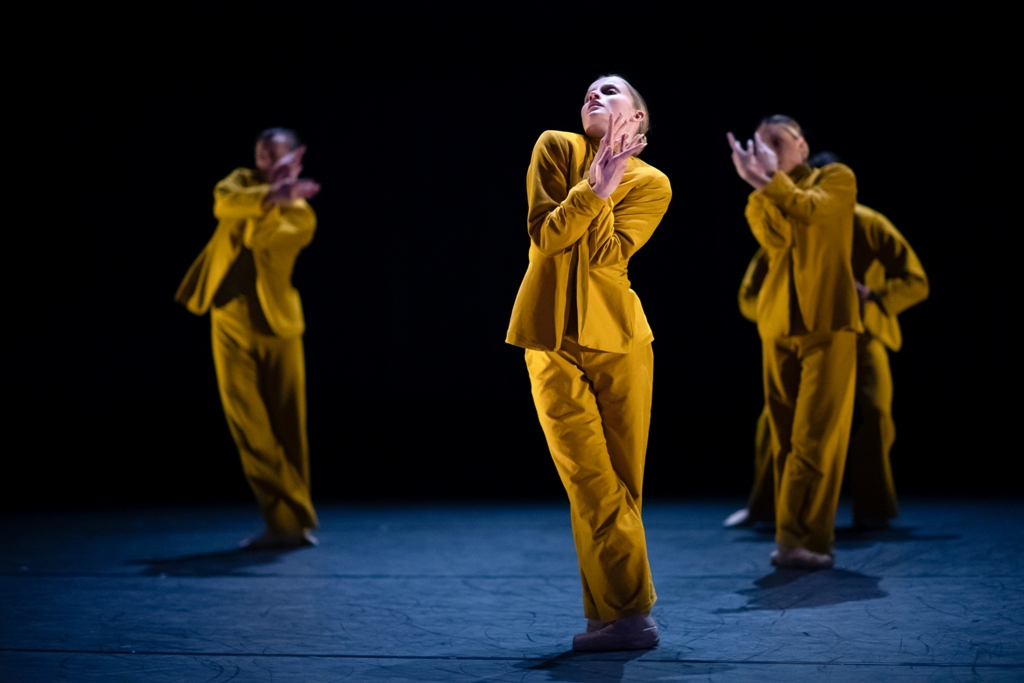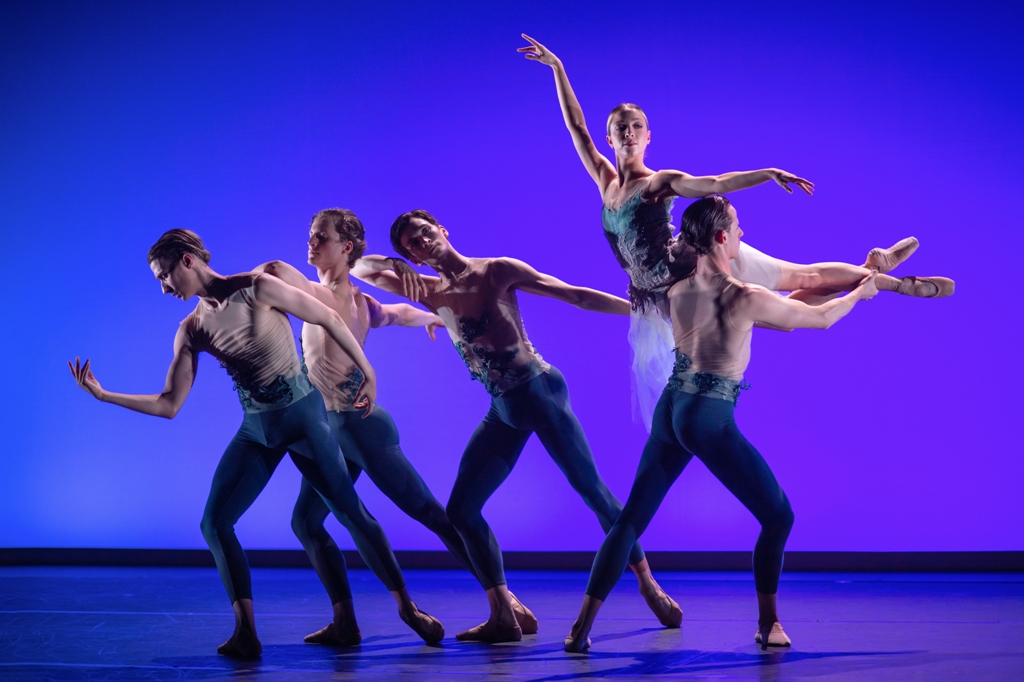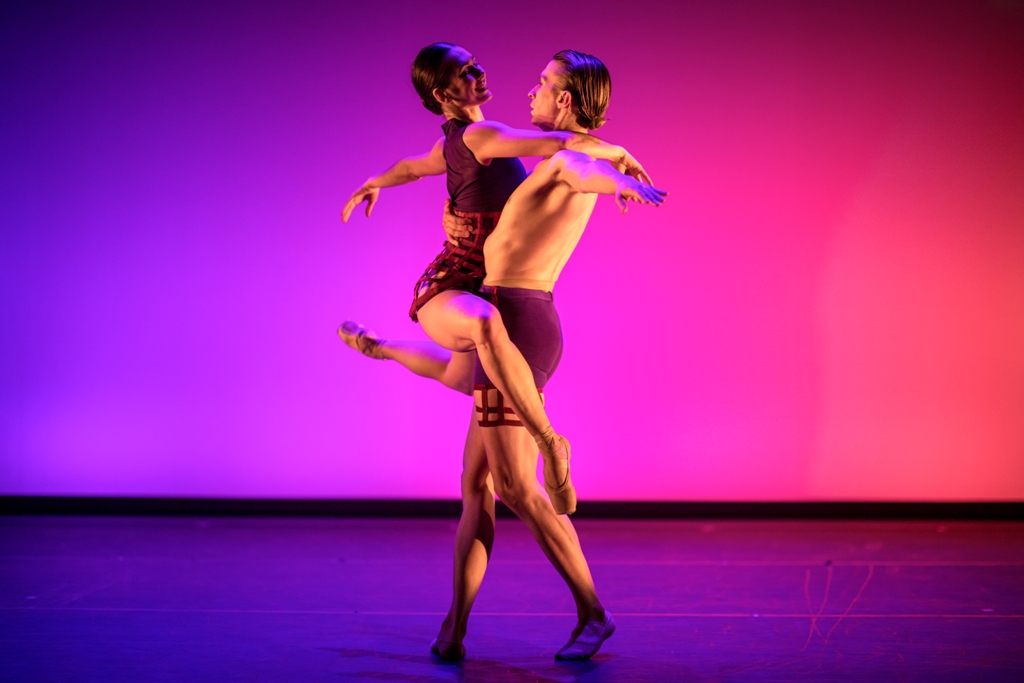 "NEBT's bright-eyed dancers demonstrate their nascent talents across a range of dance styles and endear themselves to the audience along the way … 'Very nice' a man in the row behind me said when this opening piece (Ruth Brill's 'Domino') had come to its logical and satisfying conclusion." John O'Dwyer (Seen & Heard International)
"Daniela Cardim's Nocturne was a deeply expressive pas de deux to Chopin's Nocturne No.13 in C Minor. Camino Llonch and Daniel Corthorn absolutely captured the underlying current of experiencing grief and the choreography echoed the music in all its light and shade in a series of beautifully crafted passages." (Dance for You Magazine)
"Georgie Rose's Solace plays on the idea that not all solace, not all comfort, is genuine. […] The structuring and partnering is superb […]. Top marks to April Dalton's costumes of pale orange suits and turtlenecks all round, and to Andrew Ellis (responsible for all six pieces) for the gorgeous lighting. (Seeing Dance)

"Morgann Runacre-Temple is no stranger to exploring new ideas and in her Rosamunde, set to Tom Lane's modern reimagining of Schubert's Rosamunde Quartet, focuses on revealing and concealing.  With a clever use of hands (emphasised by Ellis's excellent lighting) there is a great deal of intricate weaving of bodies in order to fulfil her ideas." (Dance for You Magazine)

Summer festival feelings …
Further into festival season, we were delighted to return for the third time to the prestigious Cheltenham Music Festival on the 10th July, where we also presented Into the Spotlight.
In an exciting first for NEBT, we were invited to The Grange Festival in Hampshire, to present the full version of The Four Seasons in the stunning neoclassical surroundings of The Grange estate on 13th and 14th July as part of their Dance@TheGrange 2022 programme Baroque Syncopations. Additional to The Four Seasons our progamme at The Grange included the famous Grand Pas de Deux from Don Quixote.
We were delighted to work with guest performers Sophie Allnatt, Artist of The Royal Ballet, Haruhi Otani, Soloist at English National Ballet, and Luca Acri, First Soloist of The Royal Ballet for this programme.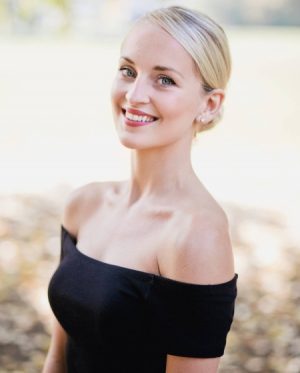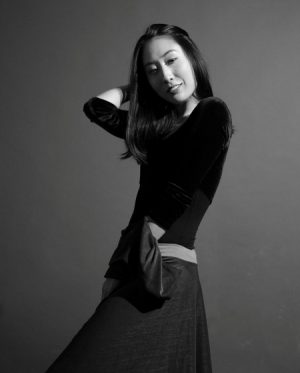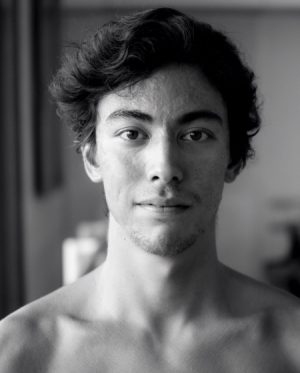 "Jenna Lee's The Four Seasons, the evening's most strictly classical piece, was also its climax…" – Donald Hutera (The Times)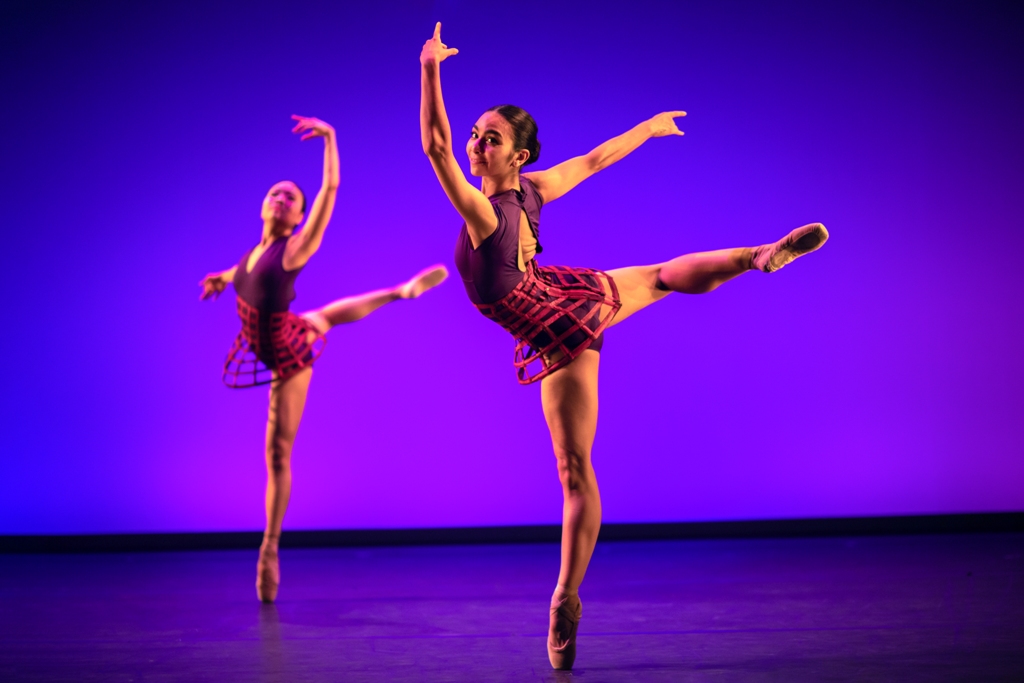 Our third stop on the 2022 festival circle was Latitude on 23rd July, with Rosamunde and two brand-new works by Valentino Zucchetti and Kristen McNally, part of the Genesis Dance Project.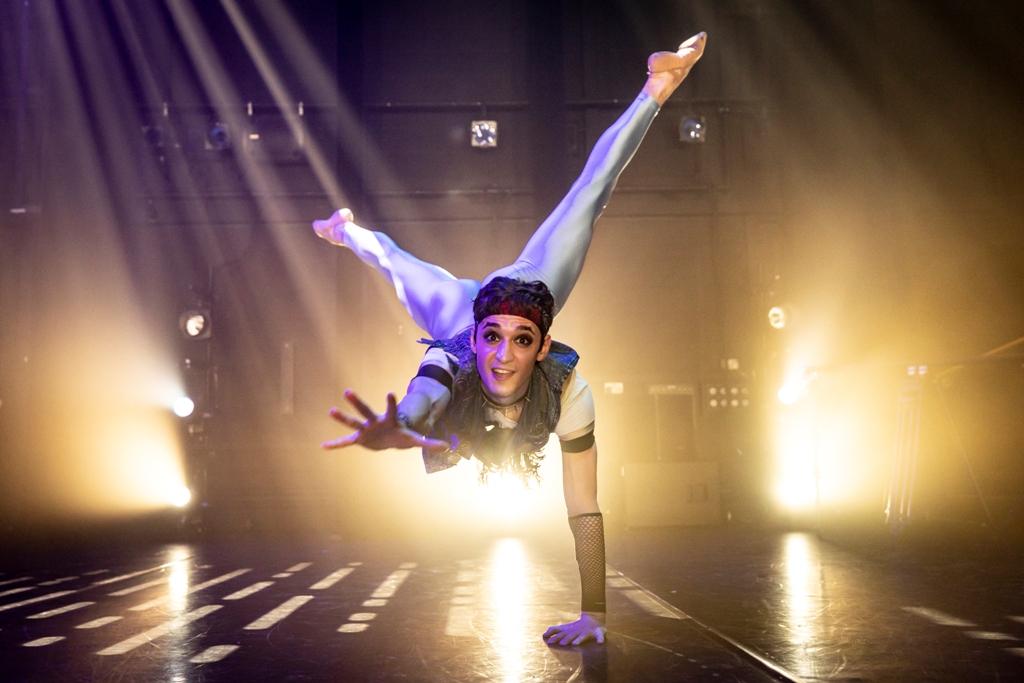 Into the Spotlight | Genesis Dance Project

Private Preview Performance
On 3rd of August we performed at the Aud Jebsen Studio Theatre, Royal Academy of Dance, London, with an exciting mixed programme, featuring Domino, Nocturne, Rosamunde and the Genesis Dance Project, a suite of four new works by four different choreographers, connected by the music of Genesis, with imaginative costumes, spectacular imagery and a soundtrack spanning Genesis' early 1970s days as prog-rockers to their 1990s era as pop chart toppers:
The Cinema Show by Ruth Brill
Watcher of the Skies (dance film) by Wayne Eagling whose most recent work for NEBT, 'Remembrance', was a critically acclaimed stage show and film. 
Firth of Fifth by Royal Ballet First Soloist Valentino Zucchetti, and
I Can't Dance by the Royal Ballet's Principal Character Artist, Kristen McNally.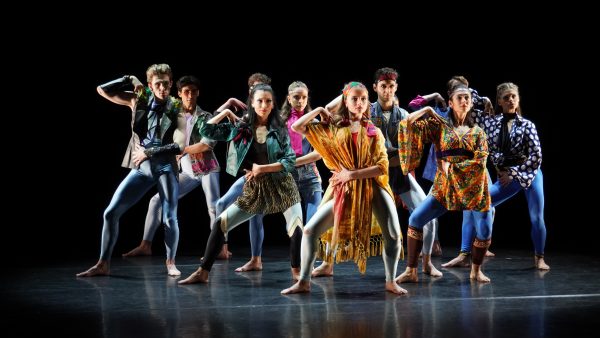 "Kristen McNally has choreographed a charming, very chilled out piece to the music of Genesis … with gorgeous 1960s costume designs by Nina Kobiashvili …" (Dance For You)
Cycles of Loss and Love

10th and 11th November, Aud Jebsen Studio Theatre, Royal Academy of Dance
Following our exciting and extensive summer tour, we were delighted delighted to extend our season into the autumn. Cycles of Loss and Love was a mixed bill focussing on themes of compassion, empathy and support.
The first half of the programme began with Daniela Cardim's much praised pas-de-deux Nocturne, which was followed by War Women Awaiting, a quintessential excerpt from NEBT's ballet Remembrance, choreographed by Wayne Eagling. Set to Handel's 'Ode for St Cecilia's Day', Remembrance is a story of love, loss and emergence, inspired by dancer Marie Rambert and what was happening in London during The Great War
The first half concluded with a special guest performance by Royal Ballet Principals Mayara Magri and Matthew Ball, dancing Matthew's new pas-de-deux (Re)Current, set to music by Sibelius.
The work explores how we are carried through life by its irreversible flow, this current pulls us through cycles of days, years or, in some beliefs, different incarnations. When we seem to transcend those recurrent patterns, especially with another person, it is worth swimming upstream to hold onto them.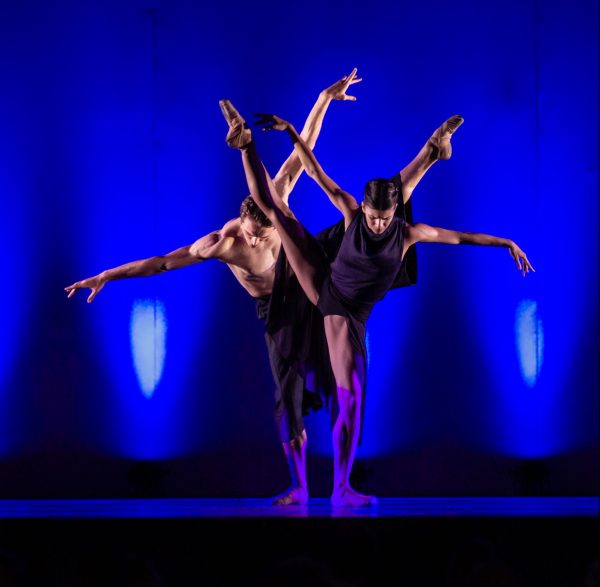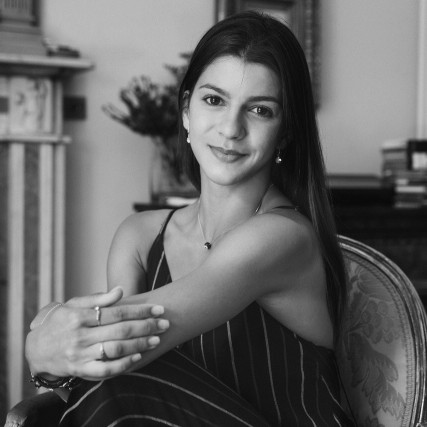 The second half of the programme was The Four Seasons by former English National Ballet soloist and choreographer Jenna Lee, set to Max Richter's recomposition of the famous Vivaldi score.
"The UK does not have junior ballet ensembles which are so much a feature of European ballet companies and NEBT serves a vital role in filling this gap.

It was apposite to present this programme in line with the Remembrance weekend when we recall the human loss suffered through the madness of war … Director, Karen Pilkington-Miksa, delivered a programme of quality classical works danced with passion and sincerity. 'War Women Waiting', an excerpt from Wayne Eagling's Remembrance … centres on a poignant duet where Natalia Kerner dances with the ghost of her lost lover, Dylan Springer. Springer's confident partnering was impressive and Kerner gave a deeply moving performance. The young artists made a powerful impact."  (Maggie Foyer – Seeing Dance)
"Cycles of Loss & Love was a showcase of the brightest and the best … Particularly in The Four Seasons, choreographed by Jenna Lee to Vivaldi's music of the same title.  Jenna wanted to show life persists through hardship and turmoil and she certainly made the youths work for their breaks.  The costumes by April Dalton were very inventive.  New talents Dylan Springer stood out in Summer, and Xholindi Muci in Winter …"  (Christopher Walker – South London Press)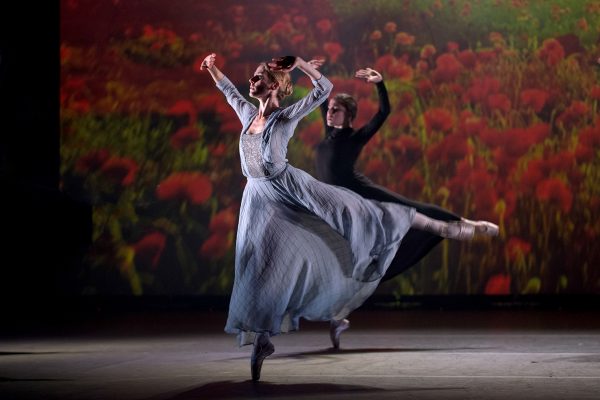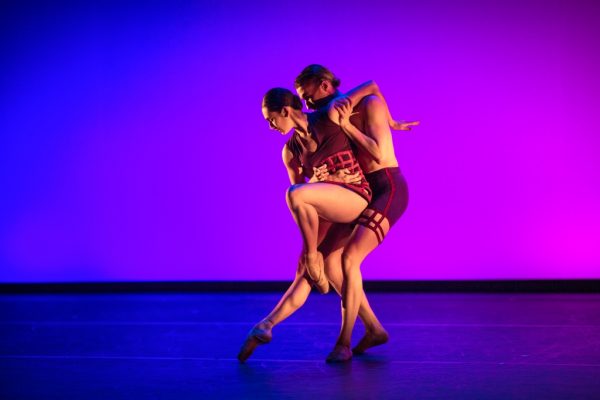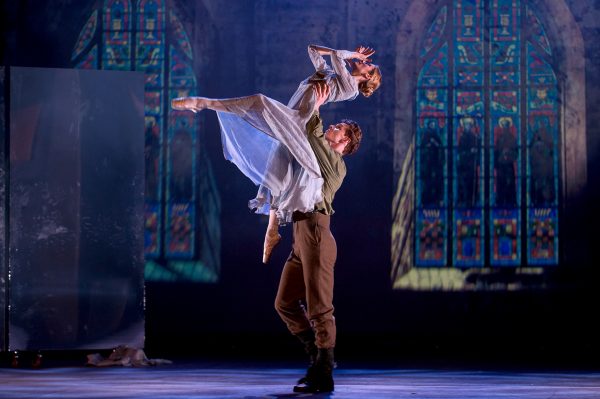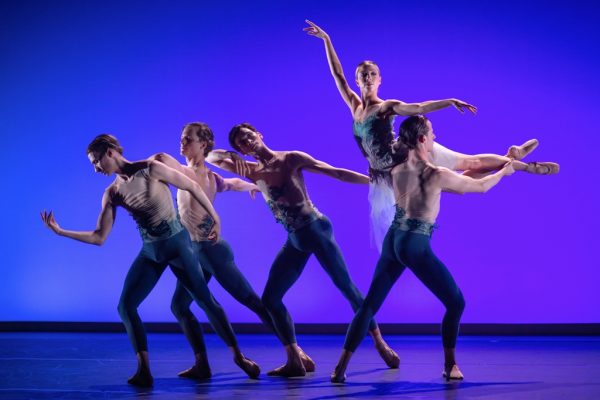 With special thanks to Simon and Glenda Weil and Maecenas for supporting our November performances.
2022 Season – All Works
See our 2022 company of dancers
Domino
Choreographer: Ruth Brill
Music: Ryuichi Sakamoto
Costume Design: Elin Steele
Lighting Design: Andrew Ellis
The shifting patterns and pairings in this piece suggest a game of human dominoes, where "players" engage in matching with a partner instead of matching pieces and numbers. The dancers explore personal connections through the choreography's mirroring movements, symmetry and asymmetry.
Nocturne
Choreography: Daniela Cardim
Music: Frédéric Chopin
Nocturne No.13 in C Minor, Op.48 No.1
Performed by Daniel Barenboim
Courtesy of Deutsche Grammophon
Under licence from Universal Music Operations Limited
Costume Design: Lisa James
Lighting Design: Andrew Ellis
Echoing the melody of Chopin's Nocturne No 13, this duet is an intimate and abstract exploration of of a couple's relationship whilst experiencing grief.
Rosamunde
Choreography: Morgann Runacre-Temple
Music: composition and arrangement by Tom Lane; excerpts from Franz Schubert
Costume Design: Patrick McDowell
Lighting Design: Andrew Ellis
Rosamunde is set to a modern arrangement of Schubert's Rosamunde Quartet, playing with ideas of revealing and concealing. Morgann was inspired by the image of Gretchen at the Spinning Wheel that is often linked to this piece of music.
The Four Seasons
Choreography: Jenna Lee
Music: Recomposed By Max Richter: Vivaldi, The Four Seasons
Costume Design: April Dalton
Lighting Design: Andrew Ellis
Written in 1721, Antonio Vivaldi's four masterful violin concertos, famously known as The Four Seasons (Le quattro stagioni), may be the most widely heard piece of classical music ever composed. Choreographer Jenna Lee rejuvenates this much-loved classic into an elegant contemporary ballet, accompanied by Max Richter's dynamic re-composition of Vivaldi's score.
Solace

Choreography: Georgie Rose
Music: 'I am Sorry Not Sorry' by Ruby Fulton, performed by Kate Amrine
'Pale Blue Dot' by Roger Goula. Used by permission of Manners McDade Artist Management LLP
Costume Design: April Dalton
Lighting Design: Andrew Ellis
We can take solace in the words "I'm sorry", but how do we know if they are honest or manipulative?
Watcher of the Skies
Choreography: Wayne Eagling
Music: Genesis
Costume Design: Nina Kobiashvili
Lighting Design: Andrew Ellis
Firth of Fifth
Choreography: Valentino Zucchetti
Music: Genesis
Costume Design: Nina Kobiashvili
Lighting Design: Andrew Ellis
The Cinema Show
Choreography: Ruth Brill
Music: Genesis
Costume Design: Nina Kobiashvili
Lighting Design: Andrew Ellis
I Can't Dance
Choreography: Kristen McNally
Filmed by: Alice Pennefather
Music: Genesis
Costume Design: Nina Kobiashvili
Lighting Design: Andrew Ellis
War Women Awaiting

Choreography: Wayne Eagling
Music: George Frideric Handel, Ode for St Cecilia's Day
Libretto: Greg Billingsley
Costume Design: April Dalton
Set Design: Nina Kobiashvili
Lighting Design: Andrew Ellis
Schedule
17th & 18th June, Next Generation Festival, ROH Linbury Theatre
10th July, Cheltenham Music Festival – Everyman Theatre
13th & 14th July, Dance@TheGrange
23rd July, Latitude Festival
3rd & 4th August, Aud Jebsen Studio Theatre, Royal Academy of Dance (Private Preview Performance)
13th – 17th September, London Coliseum. NEBT dancers take part in Giselle, p

erformed by The United Ukrainian Ballet

10th & 11th November, Cycles of Loss and Love, Aud Jebsen Studio Theatre, Royal Academy of Dance