These new ballets were the culmination of a series of collaborations between some of the very best of today's young dancers, choreographers, musicians and designers to create a body of new work.
Tangents, choreographed by Dutch National Ballet's Daniela Cardim, Orbital Motion, choreographed by the Royal Ballet's Valentino Zucchetti, Toca, by Royal Ballet's Erico Montes and Mad Women, by Royal Ballet's Kristen McNally.
The evening concluded with a newly commissioned work by Andrew McNicol, based on Tolstoy's novella The Kreutzer Sonata. This moving and tragic ballet featured a world-class young string quartet playing the music of Janácek, and an on-stage concert featuring excerpts from Beethoven.
Peacock Theatre 2-5 July 2014.  View full programme here.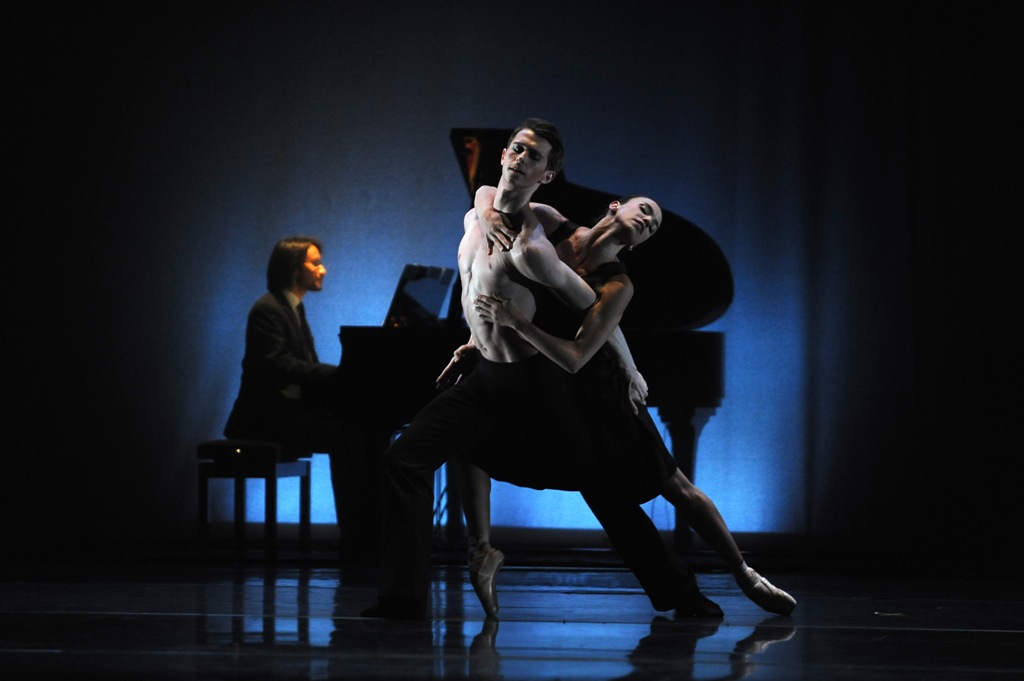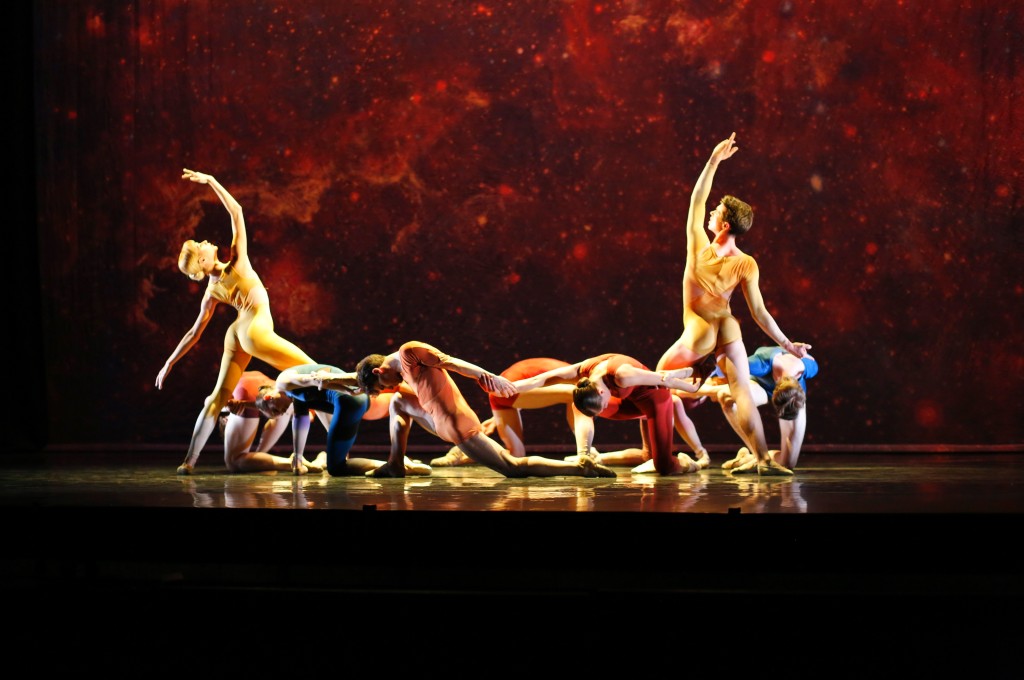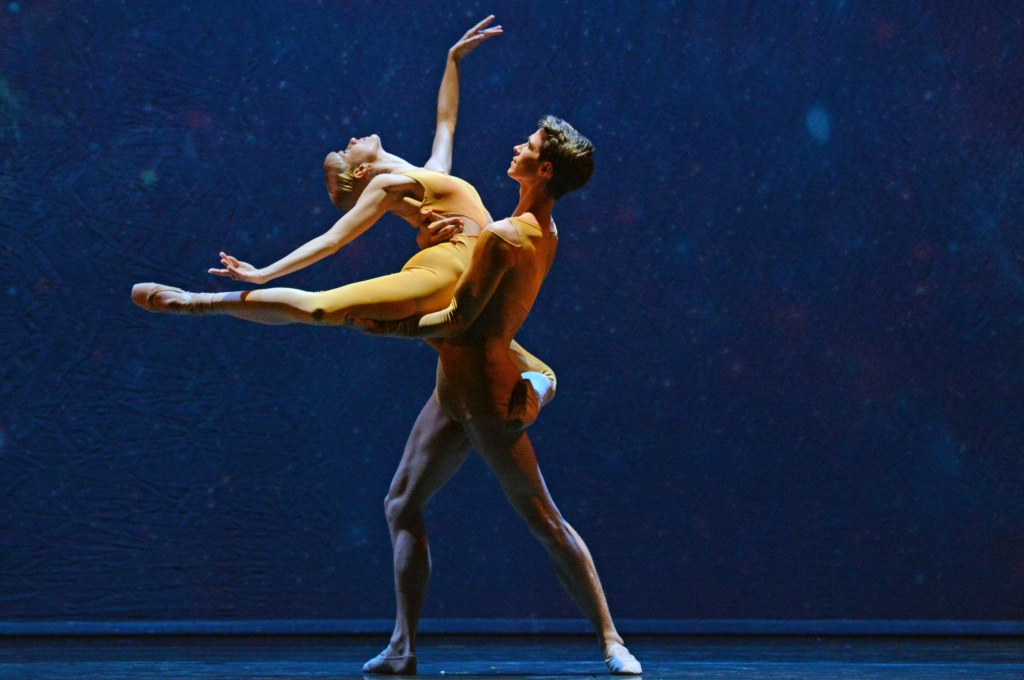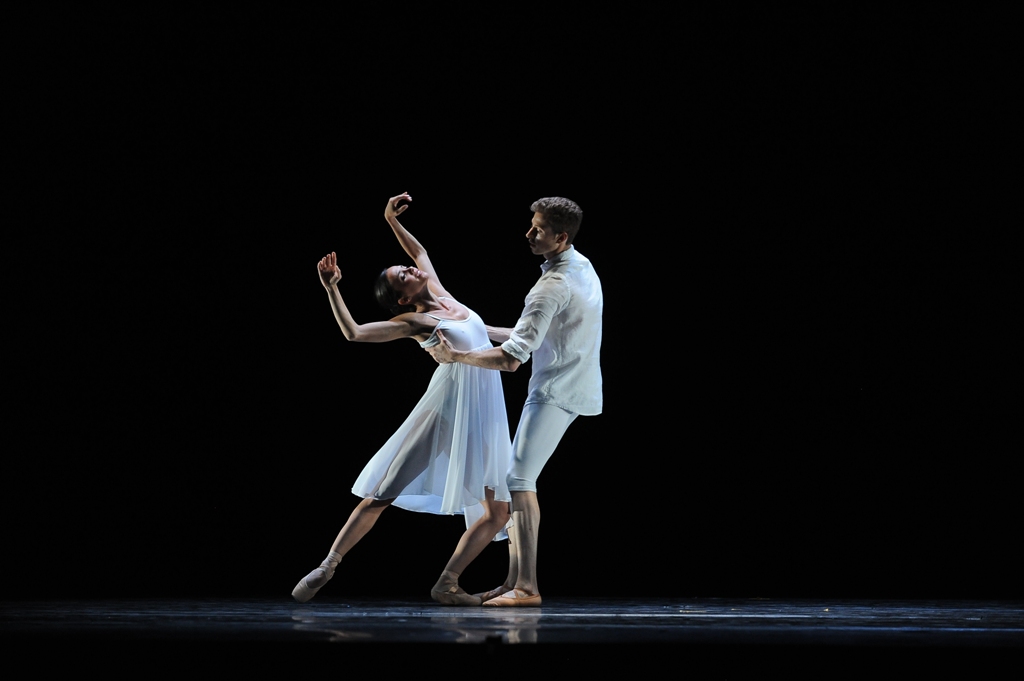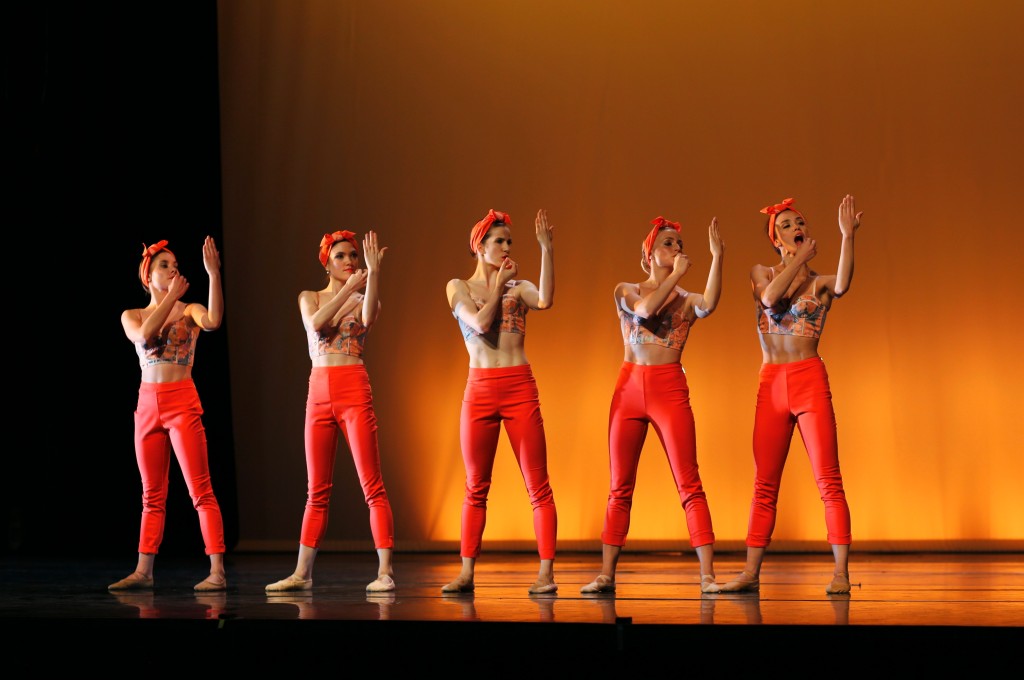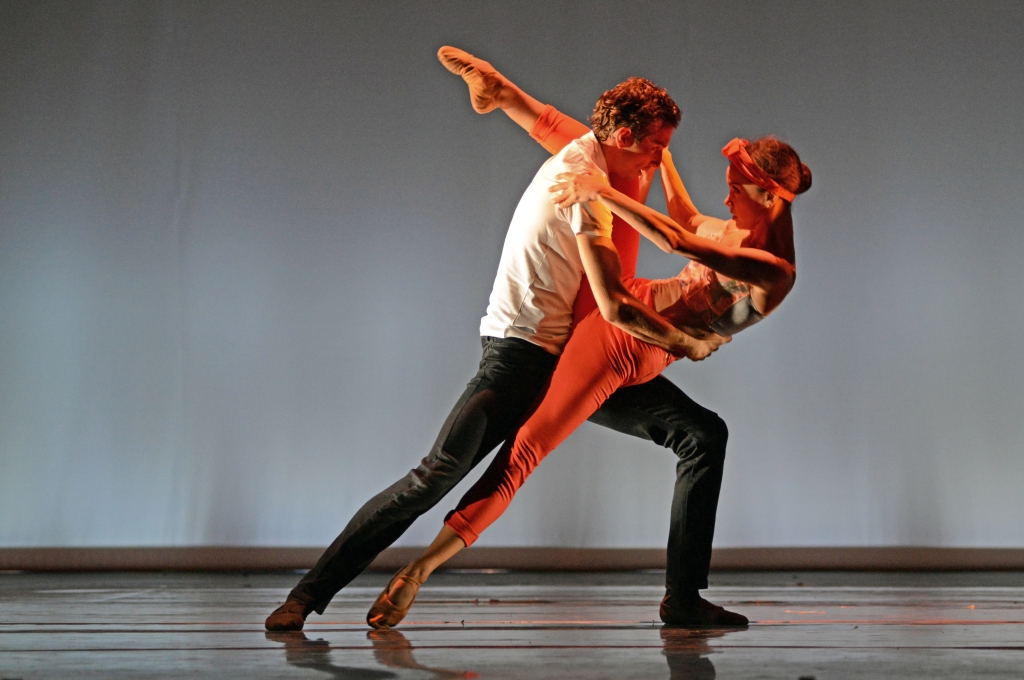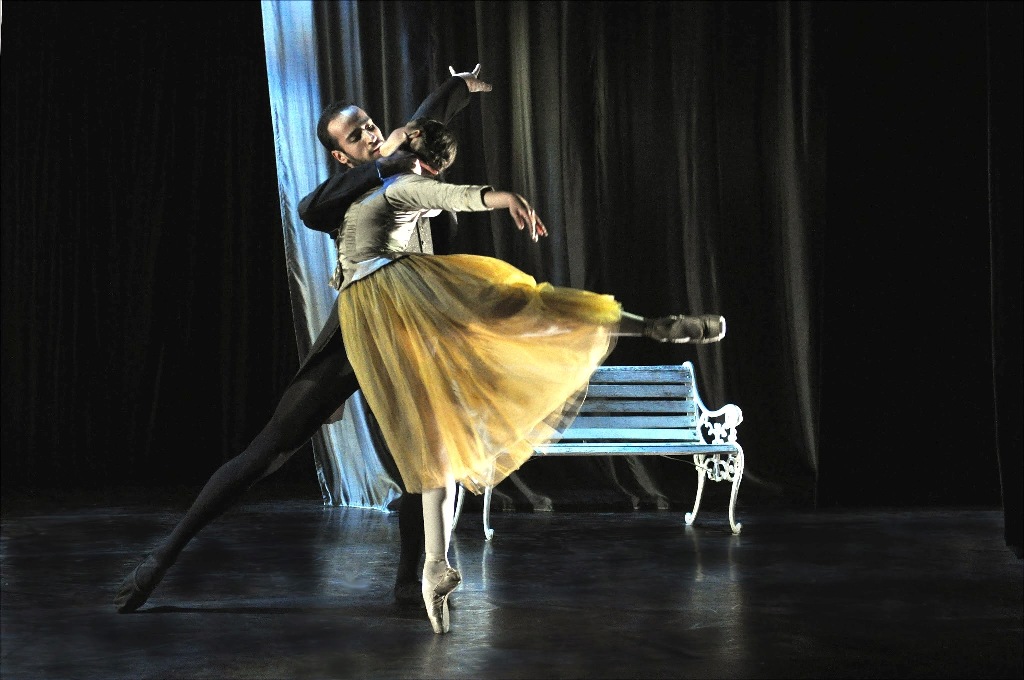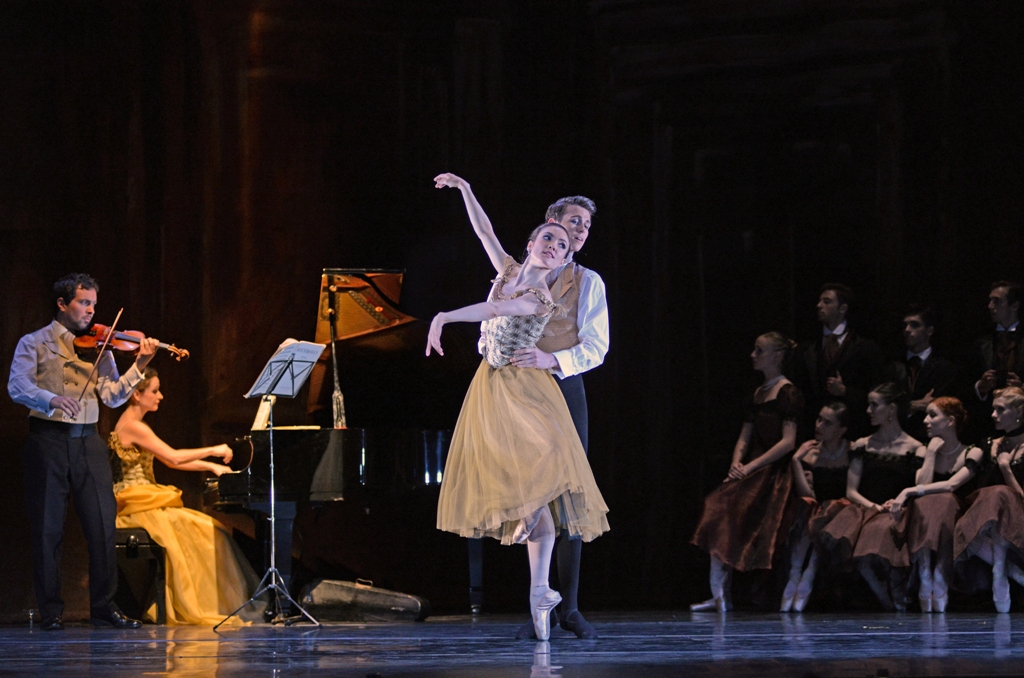 Tangents 
"Tangents is an abstract investigation into relationships and how people interact within them. There are different types of relationship but there's a main path that more or less every couple goes through. Everyone travels that path in various ways but there are certain situations we all recognise and go through as a community.
The ballet was mainly inspired by the music and I tried to reflect the music's drastic changes of mood in my choreography while making a visual and emotional connection between them." Daniela Cardim, Choreography
Orbital Motion
"Orbital Motion was originally choreographed for The Royal Ballet's Draft Works, an annual event which that year had the audience surrounding the stage from all angles. When I started choreographing the piece the general idea was to give the audience from every side a facade of the choreographic patterns and aesthetic lines. This train of thought introduced a circular motion throughout the piece in order to have most of the choreography facing outwards towards the audience" Valentino Zucchetti, Choreography 
TOCA
"Toca is inspired by The Maias, a novel by the great Portuguese author Eça de Queiroz. It's a story about a brother and sister that were split up when they were very young. They meet as grown-ups, unaware they're siblings and fall in love with each other. The story is very long, dramatic and full of detail but I've stripped it right down to the essence of the relationship between the two central characters." Érico Montes, Choreographer
Mad Women
"I was inspired by an exhibition of photographs by Miles Aldridge at Somerset House in London. He created a dream world populated by modified women who are visually perfect objects of desire. These women have evolved into flesh and blood Stepford wives and men are assumed to be their consumers. Mad Women is me wanting to comment that this isn't a man's world, it's very much a woman's one." Kristen McNally, Choreographer
Kreutzer Sonata
"After hearing a powerful performance of Beethoven's Kreutzer Sonata in his Moscow home Tolstoy was inspired to write his novella. Janácek in turn composed his version in response to the novella thirty four years later. Interestingly, Tolstoy originally intended it to be part of a performance event, which solidified my belief and desire to translate it into a new dramatic ballet. The music both inspired the narrative and was created in response to it, meaning that the action and psychological depth of the complex characters are deeply embedded within it." Andrew McNicol, Choreographer
Creatives:
Tangents
Choreographer: Daniela Cardim
Music: Modest Mussorgsky
Costume Design: Daniela Cardim
Orbital Motion
Choreographer: Valentino Zucchetti
Music: Music Philip Glass Violin Concerto No.1 © 1987 Dunvagen Music Publishers Inc. 
Design: Louie Whitemore
Lighting Design: Andrew Ellis
Duration: 17 minutes
TOCA
Choreographer: Érico Montes
Music: Heitor Villa-Lobos
Design: Kristen McNally
Lighting Design: Andrew Ellis
Duration: 10 minutes
Mad Women
Choreographer: Kristen McNally
Music: Popular melodies
Costume Design: Kristen McNally and Tour de Force
Lighting Design: Andrew Ellis
Kreutzer Sonata
Choreographer: Andrew McNicol
Music: L v Beethoven & Leos Janacek
Costume Design: Emma Bailey
Lighting Design: Andrew Ellis
Set Design: Lincoln Seligman (artwork)
Team
Company Manager Daniela Cardim
Ballet Mistress Jessica Edgley
Designer Emma Bailey
Music Director Richard Blackford
Programme Consultant Gerard Davis
Librettist Garth Bardsley
CHILD DANCERS courtesy of North London Ballet Academy
Angelina Theophanous
Wiktoria Piotrowska
Harry Brown
Erin Silk
Kaitlyn Whittick
Martin Chalmers
Performances in 2014 were held at:
Peacock Theatre 2-5 July
St Thomes' Hospital
Canary Wharf Shopping Centre
Rambert
Alumni Dancers 2014

György Baan Hungarian Dance Academy
Joshua Barwick Elmhurst Ballet School, Northern Ballet's Academy
Lorenzo Bernardi La Scala Ballet School
Niklas Blomqvist Royal Swedish Ballet School; Bolshoi Ballet Academy
Jessica Clyde Elmhurst Ballet School
Ludovico Di Ubaldo National Academy of Dance, Rome
Hayley Jean-Blackburn Royal Ballet School
Matthieu Quincy Académie Besso in Toulouse
Mercedes Schindler Vienna State Opera Ballet School
Silas Stubbs Elmhurst Ballet School
Yvonne Slingerland Royal Conservatoire of The Hague
Francesca Tennant Central School of Ballet
Justine Wisznia Conservatoire Supérieur de danse de Paris