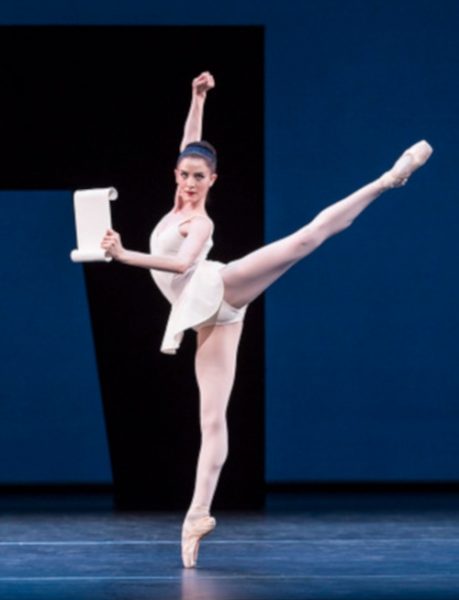 Olivia Cowley
English dancer Olivia Cowley is a Soloist of The Royal Ballet. She trained at The Royal Ballet Upper School and graduated into the Company, and was promoted to Soloist in 2013. She has created numerous roles for Wayne McGregor, including Raven (Raven Girl) and roles in Multiverse, Carbon Life and Acis and Galatea.
Cowley was born in Aylesbury. She began her training aged eight with Nicola Bowden as a junior associate of Tring Park School for the Performing Arts. She joined The Royal Ballet Upper School aged 16. Her repertory with the Company includes Marie Larisch (Mayerling), Grand Duchess Olga (Anastasia), Mother and Wife (The Invitation), Calliope (Apollo), Helena (The Dream), big swan (Swan Lake), the title role in Cassandra, Lead Sylph (La Sylphide), Natasha (Winter Dreams), Summer Fairy (Cinderella), Courtesan (Manon), Carabosse, Florestan's Sister and Fairy of the Crystal Fountain (The Sleeping Beauty), Harlot (Romeo and Juliet), Arabian Princess and Lead Flower (The Nutcracker), Lead Gypsy (Don Quixote), pas de quatre (La Bayadère), Whore (The Rake's Progress), Street Girl (Ek's Carmen), Moyna and Bathilde (Giselle) and Principal roles in Afternoon of a Faun, Qualia, Serenade, Chroma, L'Invitation au Voyage, Limen, Tetractys and Woolf Works. Her other role creations include the title role in Ludovic Ondiviela's Cassandra and roles in Sweet Violets, As One, Medusa, Agon, Rhapsody, Symphony in C, Aeternum, Ceremony of Innocence and Metamorphosis:Titan 2012.
Work away from the Company includes appearing in Nicholas Hytner's production of Timon of Athens at the National Theatre in 2012.