Synergies
Hayley Blackburn
Hayley Blackburn is a graduate of the Royal Ballet School and has performed with the School's Graduates New York and Japan Tour. For the last five years she has been with the Vanemuine Theatre Ballet in Estonia.
Africa Brau Garcia
Africa was born in Barcelona and performed at the Institut del Teatre, dancing both ballet and contemporary dance. She then attended Rambert School in London where she graduated with a BA (Hons.) degree.
Eugenia Brezzi
Eugenia studied at the Balletto Di Toscana, the Ecole Supérieure de Danse de Cannes, the John Cranko Schule and the English National Ballet School. Her performance experience includes roles with the National Ballet of Canada, the Cannes Jeune Ballet and the English National Ballet School.
Anita Bradshaw
Born in Surrey, Anita attended Elmhurst School for Dance and has performed in various works including Elite Syncopations, Raymonda and Giselle. She has toured with the Birmingham Royal Ballet on their Sleeping Beauty Tour and with Vienna Festival Ballet.
Katya Bourvis
A native of London, Katya is a graduate of English National Ballet School. After graduating she danced for a year with the Stuttgart Ballet, performing in works such as Song of the Earth, Requiem and Onegin.
Georgina Rose Connolly
Born in Reading, she studied at Royal Ballet Junior School and Royal Ballet Upper School and has performed with the Royal Ballet in Mayerling, the Nutcracker, the Sleeping Beauty, Romeo and Juliet and La Bayadère. She has most recently toured with the Vienna Festival Ballet.
Iván Delgado del Río
Iván was born in Seville and in 2006 won a one-year scholarship to attend the London Studio Centre. He then joined English National Ballet School from which he graduated in 2009. He has subsequently performed with Scottish Ballet, Ballet Carmen Roche (Madrid) and Corella Ballet (Barcelona).
Jean-François Gabet
Jean-François studied at the Ballet School of the Opéra National de Paris and then the School of the Jeune Ballet de Paris. He has performed with a number of companies including the Opera de Limoges, the Opera d'Angoûleme and the Jeune Ballet de Paris.
Tiffany Goggin
Tiffany trained in Australia at the National Theatre Ballet School and whilst there gained a diploma in arts and the Royal Academy of Dance Solo Seal award. In 2006 she performed in Dance Creation at the National Memorial Theatre alongside dancers of the Australian Ballet.
Chiaki Korematsu
Chiaki is a graduate of Torigoe Kumiko Ballet Academy in Japan and the Junges Ballett Franken in Germany. She has danced various roles in the Czech Republic and in Japan.
Sonoya Mizuno
Born in Japan but raised in England, Sonoya trained at the Royal Ballet School. Upon graduation she joined the Dresden Semperoper Ballet dancing numerous corps de ballet roles. She is currently freelancing, most recently with Ballet Ireland in a new production of Scheherazade.
Elsa Nguyen Trong
Elsa trained with the Conservatoire National Supérieur de Musique et de Danse de Paris and has performed with Les Grands Ballets Canadiens, Miami City Ballet and other companies.
Alexander Nuttall
Born in Edinburgh, Alexander trained at Central School of Ballet where he graduated with a First Class BA (Hons.) in Professional Dance and Performance. After graduating in July, Alexander joined Ballet Cymru for their national and international tours of Beauty and the Beast, Under Milk Wood and Giselle.
Daniel Pratt
Daniel is a native of London where he trained with the Royal Ballet School Associates programme and then Central School of Ballet. Daniel has also danced with Northern Ballet.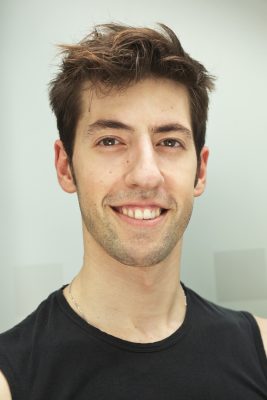 Luca Rapis
A native of Italy, Luca studied contemporary and classic technique with Susanna Beltrami in Milan and then joined the Maurice Béjart School in Lausanne, which gave him the opportunity to dance in every show with the company itself and also to develop his interest in choreography.
Nicolas Scheuer
A Brazilian native, Nicolas trained at Bolshoi Theatre School in Brazil. Upon graduation he won a scholarship to Boston Ballet School where he has been performing in productions of La Bayadère, the Nutcracker, A Midsummer Night's Dream and Romeo and Juliet.
Silas Stubbs
Silas was born in Cheltenham and is a graduate of Elmhurst School for Dance. While at school he performed on a number of occasions with Birmingham Royal Ballet. Silas is currently a soloist with the Vanemuine Theatre Ballet in Estonia.
Jack Thorpe-Baker
Jack is a graduate of Elmhurst School for Dance and English National Ballet School. He has performed with a number of companies including English National Ballet, National Youth Ballet, the Slovakian National Ballet and has most recently been a soloist with the Joffrey Ballet in Chicago.
Ludovico di Ubaldo
Ludovico has been studying at the National Academy of Dance in Rome since 2005, focused on classic technique, although he is interested in performing modern dance repertory.
Ryoko Yagyu
Born in Japan, Ryoko studied at Homura Tomoi Ballet School and the Conservatory of Vienna. In 2003 she reached the semi-final of the Prix de Lausanne and has since performed many leading roles.