Conversations about Daniela Cardim's new ballet, Two Husbands
"I like that Dani has a collaborative approach to the aesthetic for her pieces, so I always enjoy creating the designs to fit her choreography. Her music choices are always fun, too."
Andrew Ellis, Lighting Designer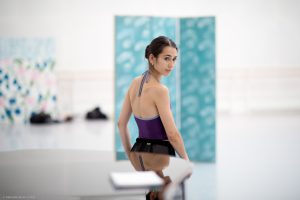 Two Husbands, Daniela Cardim's (DC) new work, tells the story of a young woman, Fleur, torn between two men – with a slight twist. It is also a joyous celebration of Brazilian life and culture. We spoke to the choreographer, dramaturg Garth Bardsley (GB), costume designer April Dalton (AD) and lighting designer Andrew Ellis (AE) about bringing Fleur's story to life:

Daniela, what inspired you to create Two Husbands?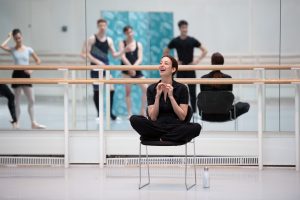 DC: When I was in Brazil in December I was researching music for a new ballet for NEBT. I happened to listen to Heitor Villa-Lobos' string quartets and thought as he is a Brazilian composer, maybe I should use something with a Brazilian theme… And then I remembered the story of Dona Flor and her two husbands! I's a very famous story in Brazil but somehow it had never occurred to me to base a ballet on it.
I think it was Villa-Lobos' music that inspired me to create Two Husbands.  Not only does it contain humour and drama; I also find his music very narrative. When you listen to it, you can imagine a story happening – he just has that flavour, that style that suits this ballet really well.
When I came back from Brazil I started to create a plot and organising the scenes by drafting a storyboard. Then I brought Garth on board.
Garth, this is probably a good moment to bring you into the conversation: you are the dramaturg for Two Husbands. What exactly does a dramaturg do?
GB: Dramaturgy in the UK is still relatively new, whereas in other areas of Europe and indeed in the USA dramaturgs are a regular feature in many theatres and production companies. A dramaturg's job is, in essence, to work with the director/choreographer and actors/dancers to help focus the production on what it wants to say and how best to say it.
Dani and I met on several occasions to discuss the storyboard and the proposed narrative – how to tell the story if you like. We analysed the characters and their intentions so that we could create discrete individuals for the dancers to realise, and discussed and explored how the story could be translated into dance.
In ballet we strip away and try to find the simplest way of telling the story in the shortest amount of time without losing the complex nature of the material and richness of the characters – there is movement and music, costumes and the set design and that is about it. Without words one has to focus on specific scenes and comprehensible 'conversations' involving  the characters. Inevitably the audience have to do some of the work – filling in the gaps – but that, I believe, makes ballet that much more exciting and nuanced.
The dancers have to know exactly who they are and what they are trying to portray and in a chamber ballet such as Two Husbands, that specificity is all-important.
How did you work with the dancers?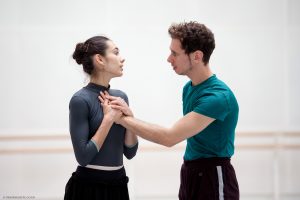 DC: Our first rehearsal was an acting session, which really helped me see whom I should cast for each role.
GB: I led an acting workshop to explore various themes and events within the story and to see how the dancers responded to a variety of situations. We played some games and did some exercises that helped investigate the individual roles and the interaction between them – we also had some fun exploring the physicality of certain character types.

I think some of the dancers found the session quite challenging because it was most definitely about acting and not dancing. Without physical/ballet gesture the dancers had to think real thoughts in real time and act them out – not easy! We also discussed the idea that the dance comes from real action, real emotion and is not simply representational. The gesture has to have meaning in a truly dramatic way.
Beyond music, storyline and characters a ballet needs costumes, props and lighting …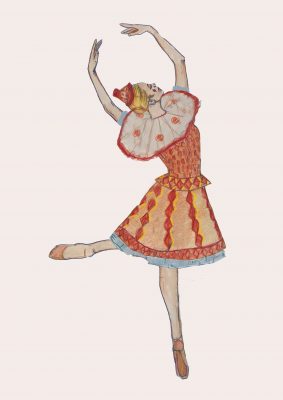 DC: I brought in April once I had finalised the first draft for the storyboard. We met a few times and talked about the story and tried to find a 'look' that really portrayed this story.
AD: I began the design process by looking at lots of images of Brazil from around 1950s/1960s. I found lots of lovely images of household interiors that had quite patterned and textured walls, or were busy with photoframes and ornaments. The colours also tended to be quite saturated and interesting mixes of tones. When looking through the references, we all noted that they reminded us of Matisse paintings, and we liked the fact that the heightened patterns, colours and distinctive painterly quality, as well as the slightly skewed, wonky perspectives, could keep us within more of a playful aesthetic rather than a completely naturalistic world.
My main inspiration came from looking at photos of Brazil streets from the time. There are some gorgeous images of the carnival from 1950s/60s and I hope we give a taste of the colours and the sense of fun, particularly through the costumes in that scene. We found some lovely references of simple summer dresses being worn, and copied these shapes in the designs, though heightening colour and pattern. Of course, ideas also come out of seeing things in the studio and tweaks are then made to the props being used etc. or placement of set elements.
There are practical requirements of props and scene changes as you would usually have in a play, though I had to make sure the design was elemental and easy to manoeuvre/ light to position so that scene changes could be worked into choreography as much as possible. We want to be able to tell the story with simple props and small set elements (stools, a table), so objects can appear from nowhere and also vanish quickly to create a style of playful storytelling.
… and obviously the lighting design also contributes to this element of storytelling! Andrew, how would you characterise creating lighting for dance/ballet (as opposed to drama or opera)?
AE: In dance one can be freer to explore revelation of form, even at the expense of continual clear illumination of faces, which is something that is given top priority in lighting for drama. If it's a narrative work like Two Husbands I am guided by the story and do my best to help guide an audience along; in abstract and contemporary works it's fun to give in to the music and the movement and go places that other forms of theatre just don't let you go.
What do you particularly like about Two Husbands?
AE: There's a fantastic cheeky energy to the choreography in this piece. The story is very clearly told through the movement and the characters, while larger than life, are all very relatable. There are some excellent group sections and also opportunities for soloists to shine, and the music is great fun. I've only just started to come up with ideas for what we are going to do with the lighting, but I'm already excited to get into the theatre and see what we make!
Photos: Deborah Jaffe deborahjaffe.co.uk / @deb.jaffe; Designs by April Dalton