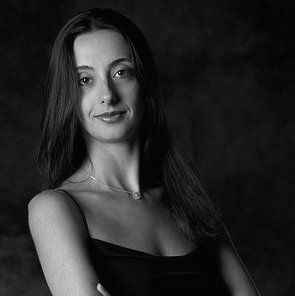 Daniela Cardim
Daniela Cardim danced with the Dutch National Ballet in Amsterdam for 11 years and with Ballet do Theatro Municipal do Rio de Janeiro for 5 years. She was commissioned by Dutch National Ballet to create choreographic works for the company on three occasions.
In 2016 she created Uirapuru for Ballet do Theatro Municipal do Rio de Janeiro; the work was successfully received by both critics and audience. She also created works for São Paulo Companhia de Dança, Dutch National Ballet's School, School of American Ballet (as part of the New York Choreographic Institute) and the Liverpool Institute of Performing Arts.
Daniela holds a first class degree in Arts Management. She works with NEBT as Company Manager and Ballet Mistress. She is also one of NEBT's choreographers and created works for the company in 2014 and 2015. She was recently cited as 'new name to watch' by Dance Europe Magazine's Critics' Choice for these works.
Read Daniela's interview for Dance UK
Description of the ballet – Vertex
"Being Brazilian myself, researching music from my native country, I uncovered an undiscovered gem which I am delighted to explore with NEBT's energetic young dancers. The material was created in close collaboration with the dancers, finding the dynamic and the intention of the movements in response to the music and the mesmerising drawings of Anne Christopher RA."
Music: Camargo Guarnieri – String Quartet No. 2 played live by the Guildas Quartet
Number of dancers: 8
Duration: 16 minutes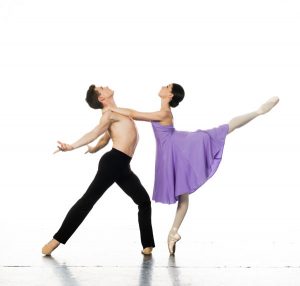 Daniella Cardim's Ballet 'Vertex'. Dancers: Riccardo Rodighiero and Hannah Sofo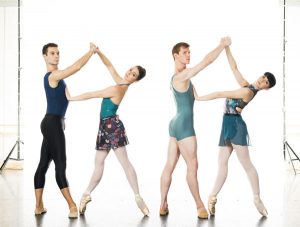 Daniella Cardim's Ballet 'Vertex'. Dancers: Giulio Galimberti, Nicola Henshall, Alexander Nuttall and Bethany Headland.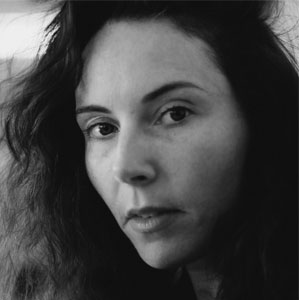 Kristen McNally
Born in Liverpool, Kristen trained with Elizabeth Hill before joining The Royal Ballet Upper School in 1999. She danced in Christopher Wheeldon's Souvenirs and Steven Greenston's Interpretations for the school's annual performance before joining the Royal Ballet in 2002. She was promoted to First Artist in 2007 and then Soloist in 2009. Her repertory includes Swan Lake, Manon, Romeo and Juliet, Ballet Imperial, Les Rendezvous, Gong, La Valse, Daphnis and Chloë, Onegin, The Lesson, The Seven Deadly Sins and Carmen.
An increasingly successful choreographer, her previous choreographic achievements include Yes We Did and Don't Hate the Player, Hate the Game both of which were created for the New Works performances at the Linbury Studio Theatre in the Royal Opera House. She also created Metheus for BalletBoyz the TALENT in the Linbury Studio Theatre. Her ballet Lonesome Gun was performed to great audience acclaim in NEBT's debut season in 2012, as well as Mad Women in 2014 and 2015. In Summer 2016 NEBT brought both ballets to Latitude Festival and Canary Wharf Summer Sessions, to great acclaim.
Description of the ballet – Moonshine
In this work, Kristen explores, with her usual wit, the concept of the 'pilgrimage' – a person's journey or search for moral or spiritual significance.
Music: The Grand Budapest Hotel – Original Film Score medley
Number of dancers: 5
Duration: 10 minutes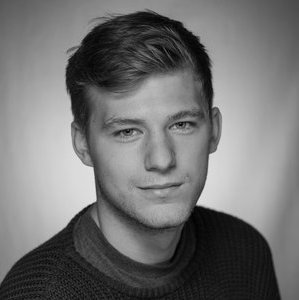 George Williamson
Born in Worcestershire, George trained at the Elmhurst School for Dance and English National Ballet School, where his choreographic work began. Whilst at the School George won the Choreographic Competition for three consecutive years and the CTRL-ALT-SHIFT Award. In 2010 he created Ana-Chro-Po for English National Ballet School's Summer performance, for Polish National Ballet he created Animus in 2011 and for New English Ballet Theatre he created Threefold in 2012. Firebird was his first commission for English National Ballet receiving its world premiere at the London Coliseum in 2012.
My First Cinderella premiered at the Peacock Theatre, 2013 and that same year George received a nomination for the Benois de la Danse Award for Firebird and created Tempus on English National Ballet for Her Majesty The Queen's Coronation Festival at Buckingham Palace. For Dutch National Ballet's Junior Company he created Dawn Dances and for New York Choreographic Institute, Four On The Floor 2013 and Outline 2015. In 2014 he produced My First Ballet: Coppélia and the following year, My First Ballet: Swan Lake. In November 2015 he created his first full-length narrative ballet for Lithuanian National Ballet; Egle the Queen of Serpents and Murmuration for ABT Studio Company. Future projects include a new production of My First Ballet: Sleeping Beauty, and a world premiere with Dutch National Ballet.
Description of the ballet – Strangers
English National Ballet Associate, George Williamson sets this piece to Brahms Piano Sonata in E Minor Opus 38 First Movement played live by renowned pianist Anne Lovett and cellist Anna Menzies. George examines the concept of 'foreignness' from within the individuals and from without.
Music: Brahms – Cello and Piano Sonata in E Minor Opus 38 First Movement played live by renowned pianist Anne Lovett and cellist Anna Menzies.
Number of dancers: Full company piece
Duration: 17 minutes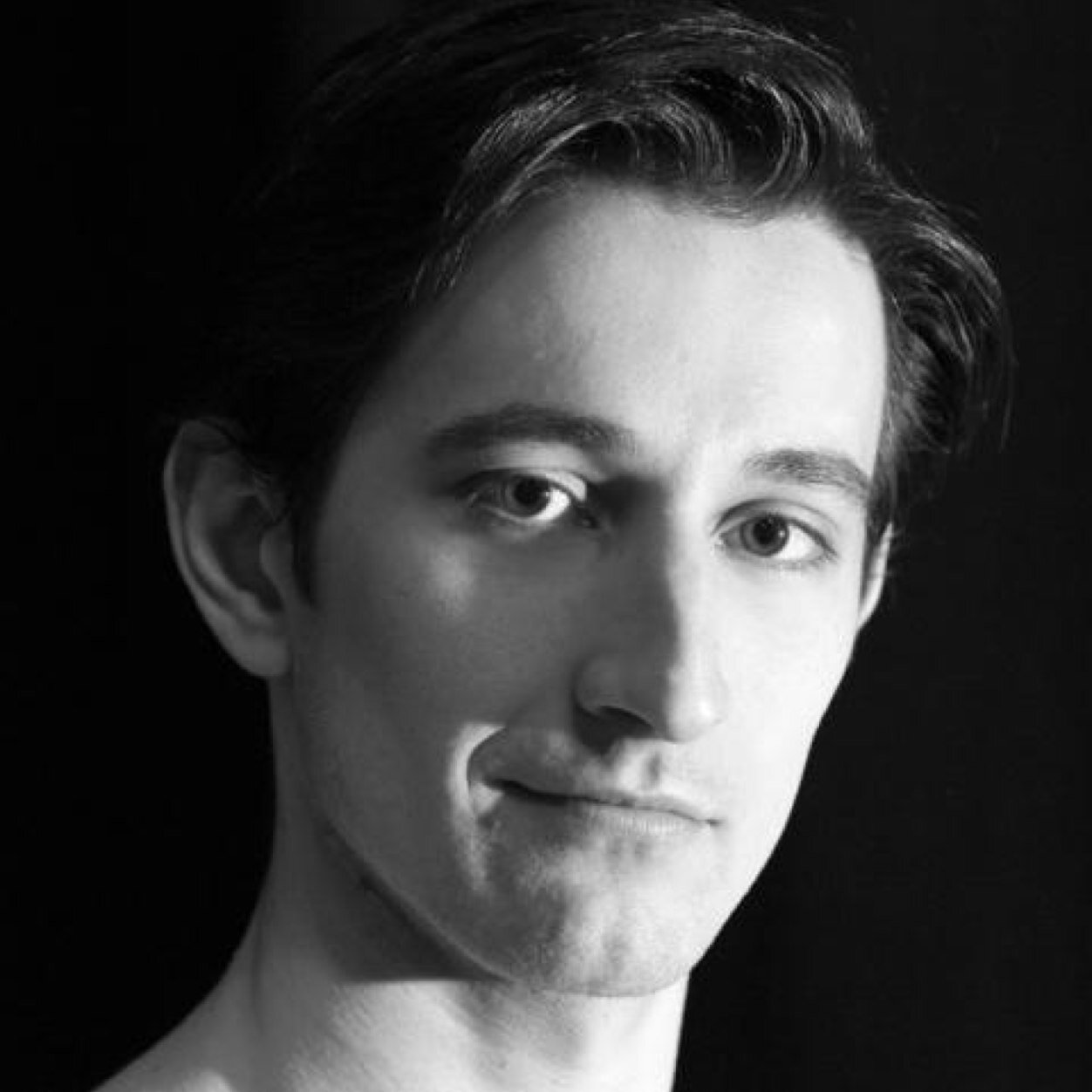 Valentino Zucchetti
Born in Brescia, Italy, Valentino trained at La Scala Ballet School in Milan and The Royal Ballet School, London, where he graduated in 2007. He then worked with Heinz Spoerli's Zurich Ballet for two years and Norwegian National Ballet for one year before joining The Royal Ballet in 2010 where he was promoted to soloist in 2012. During his dancing career he has created roles in ballets by Heinz Spoerli, David Dawson, Liam Scarlett and Christopher Wheeldon while working with many other choreographers including Nacho Duato, Jivrí Kylián, John Neumeier and William Forsythe.
Valentino's choreographic career started at the Royal Ballet School where he won the Ursula Moreton Choreographic Competition in 2006. Since then, he has created numerous pas de deux, solos and pieces for the Royal Ballet's Draft Works from 2011 to 2015. In collaboration with the composer, Philip Glass, and with the assistance of the Royal Opera House Music Department, Valentino developed the three movement ballet Orbital Motion, produced by New English Ballet Theatre with costumes by Emma Bailey.
Description of the ballet – Enticement's Lure
A lyric investigation of the character of two couples and 'temptation', which can sadly destroy relationships.
Music: Rachmaninoff – Trio Elegiaque No. 1 in G Minor played live by three musicians
Number of dancers: 5
Duration: 16 minutes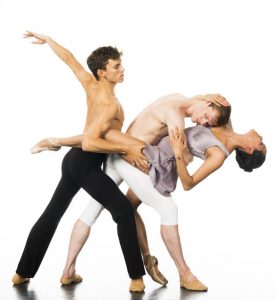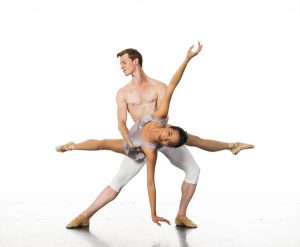 Valentino Zucchetti's Ballet 'Enticement's Lure'. Dancers Alexander Nuttall and Alex Cameron-Martin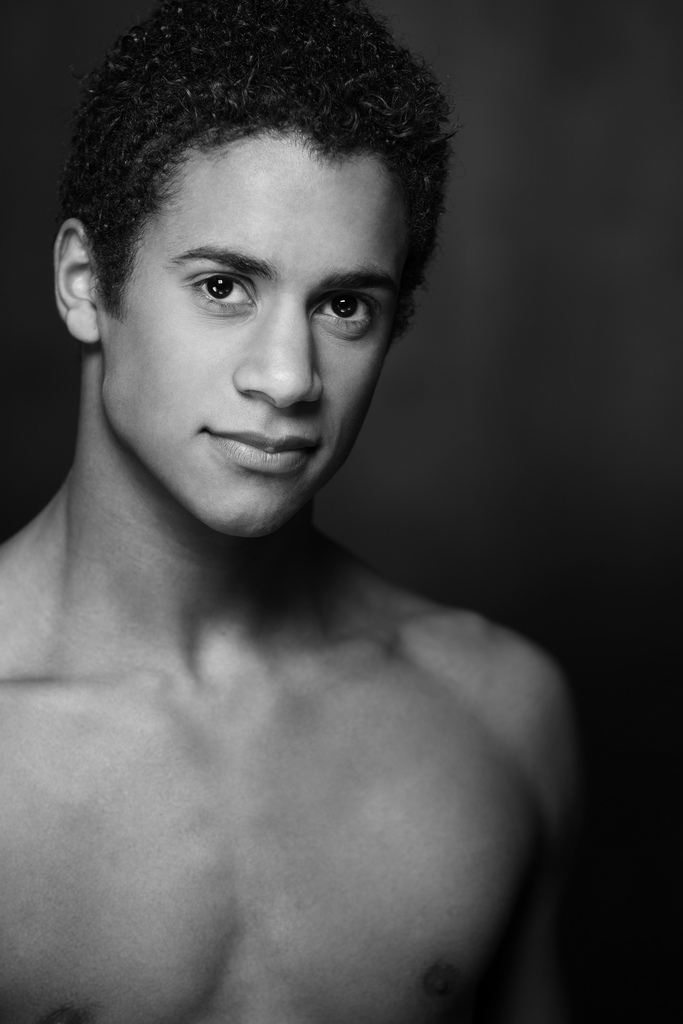 Marcelino Sambé
Portuguese dancer Marcelino Sambé is a Soloist of The Royal Ballet. He was selected as one of the UK's emerging choreographers by Youth Dance England in 2012. His M' cã cré sabi won second prize at the 2011 Ursula Morton Choreographic Awards. He has created very innovative works for the two last editions of the Royal Ballet's Draft Works.
Description of the ballet – Land of Nod 
NEBT is commissioning Sambé to create the piece for three dancers taking the audience into a surrealistic dream in the land of the subconscious!
Music: Nathan Halpern and Yann Tiersen
Number of dancers: 3
Duration: 12 minutes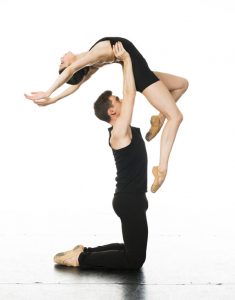 Marcellino Sambe's Ballet 'Land of Nod.' Dancers Riccardo Rodighiero and Hannah Sofo
If you have any interest in commissioning the choreographers please contact us at info@nebt.co.uk
And others to be announced
Dancers/Choreographers who are willing to work in a neo-classical genre may apply for future years by sending a DVD of work and a CV.
We are co-ordinating with MA courses in Choreography in our search for talent.