The New 2017 Season Announcement and Update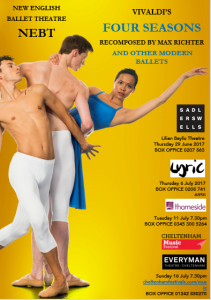 Launching our Second Season of Children's Ballet Classes at The Lyric Hammersmith
We  are proud to announce the launch of our second season of  childrens classes, running from May 13th until July 22nd 2017.

Please get in touch with the Lyric Box Office on

020 8741 6850 

or visit

to secure your place today.

 

Introducing NEBT's Ballet Season
2017
After a stunning opening performance at London's prestigious Roundhouse Theatre, NEBT commences it's 2017 season with a touring repertoire of modern ballets. Commandeering the unique talents of choreographer Jenna Lee and NEBT's brand new company of ballet dancers, the season will display the talent and dynamism of direction for which the company is well-recognised.
Kicking off with a performance of 'Four Seasons, and Other Modern Ballets' at the Lyric Theatre Hammersmith on Thursday July 6th and Friday July 7th, the tour will next stage the company's repertoire at the Thameside Theatre in Thurrock on Tuesday July 11th, then the long standing and still eminently popular Cheltenham Music Festival on Sunday July 16th 2017. The tour will run through mid to late July, with some very exciting additions to the schedule along the way…

For 2017, the company is proud to present two of our ballets taken from our critically acclaimed performance at London's Peacock Theatre in November 2016, 'Enticement's Lure' by Valentino Zuchetti and 'Vertex' by Daniela Cardim and a brand-new ballet choreographed by Jenna Lee to Max Richter's re-composition of Vivaldi's 'Four Seasons.'

Tuesday 11th July 2017
7.30pm
Thameside Theatre
To book tickets and for further information, please visit
www.thurrock.co.uk and www.nebt.co.uk
As part of the company's ongoing partnership with The Lyric Theatre Hammersmith www.lyric.co.uk we shall be performing our new season's 2017 repertoire at the venue's Theatre on Thursday 6th and Friday 7th July 2017.
To ensure you secure your ticket, please visit the Lyric website at www.lyric.co.uk  or contact the box office on
0208 741 6850.

We are also honoured to announce our performance at the Everyman Theatre for the annual Cheltenham Music Festival on Sunday July 16th. Tickets go on sale in April at which time you are able to book online at cheltenhamfestivals.com/music

PREVIOUS SEASONS
2016 

NEBT is currently running children's ballet classes which offer a chance for young and aspiring ballet dancers, between the ages of 5 and 10 years, to learn from the industry's leading professionals in the stunning setting of the Lyric Theatre Hammersmith . Classes are between 13:00 and 15:00, every Saturday. Please book in advance as classes are always oversubscribed
Previous Seasons Programmes: 2016
9th – 12th November 
Quint-Essential, Five New Ballets
Sadler's Wells, Peacock Theatre

NEBT dancers photographed by Patric Baldwin
New English Ballet Theatre's stunning young dancers performed the World Premiere of Quint-Essential, Five New Ballets. With awe-inspiring music and breath-taking choreography, these five world class ballets enchanted, intrigued and inspired audiences new and old, leading them on a visual journey through the company's finest choreography and most experimental performances to date.
Friday 14th and Saturday 15th October
Taking Chances – Choreography Lab
Rambert Studios, Southbank

NEBT are delighted to be a partner company of Lyric Hammersmith commencing 2016
Saturday 16th July
Mixed Bill
Latitude Festival, Henman Park, Southwold, Suffolk

Mad Women photographed by Thierry Fonteyne
NEBT presents two pieces by choreographer Kristen McNally: 'Mad Women', a satirical exploration of the traditional conflict between men and women as seen in the context of the late 1950's housewives, and 'Lonesome Gun', a raunchy, playful piece inspired by American Western movies.
NEBT also presents 'Wundarra', a pas-de-deux set to aboriginal music where the choreographer Daniela Cardim explores the juxtaposition of this unusual sound with the classical ballet language.
For more information and to book tickets, click here.
Monday 15th August
Open Air Performance & Big Screen
Canary Wharf Summer Sessions, Canada Square