Portuguese dancer Marcelino Sambé is a Soloist of The Royal Ballet. He was selected as one of the UK's emerging choreographers by Youth Dance England in 2012. His M' cã cré sabi won second prize at the 2011 Ursula Morton Choreographic Awards. He has created very innovative works for the two last editions of the Royal Ballet's Draft Works.
Description of the ballet – Land of Nod 
NEBT is commissioning Sambé to create the piece for three dancers taking the audience into a surrealistic dream in the land of the subconscious!
Music: Nathan Halpern and Yann Tiersen
Number of dancers: 3
Duration: 12 minutes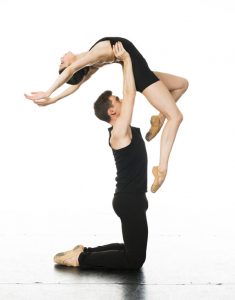 Marcellino Sambe's Ballet 'Land of Nod.' Dancers Riccardo Rodighiero and Hannah Sofo