Emma Bailey
Emma trained at the Motley Theatre Design Course and previously completed a BSc in Architecturefrom the Bartlett School UCL. She won the Linbury Prize 2011 for the Royal Opera House Linbury Studio withRoy Orbison in Clingfilm.
Theatre and opera credits include Lia's Guide to the National Lottery at the Bridewell Theatre,Sevastopol at the Royal Opera House 2, Song of Songs at the Swan Theatre RSC and Overruled at the Old Red Lion.
Emma has assisted designers in opera, theatre and film such as Tom Piper, David Fielding, TomCairns and Charles Edwards.
Whilst currently working on the Kreutzer Sonata for the NEBT she is also designing a verbatim pieceListen, we're family at JW3. Emma also continues her fascination with 2D and 3D design and performance by teaching as part of ADa Collective.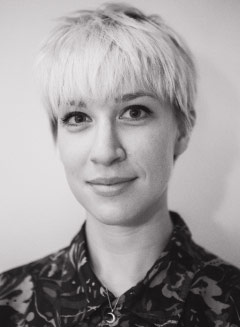 Emma Bailey
NEBT Designers 2012
ARTIST ADVISORS
SUMARRIA LUNN  GALLERY
Following two years of innovative pop-up exhibitions in variety of central London
locations.  Sumarria  Lunn Gallery took up permanent residence in the heart of Mayfair
in 2011. The gallery is committed to supporting emerging artists – artists it has
championed sine its origins as pop-up- alongside rising starts and more established
names. The choice of artists is based ultimately on integrity. "The combination of
ability, rigor,  and ingenious concepts culminate in word we can believe in, work
we wantto present. "The gallery is run by will Lunn and vshal Sumarria.
VISHAL  SUMARRIA
Vishal Sumarria is graduate of the Collage of Fine Arts, UNSW(Sydney). He organized
his first show while studying in Sydney Curating  an exhibition  of contemporary
Australian art in Mumbai .
WILL LUNN
Will Lunn organized his firs exhibition, Including two internationally renowned
artists, aged 17. He is a graduate of the court auld  Institute of Art and prior to
becoming a curator and gallerist,  he has exhibited his own work under a pseudonym
both in England and abroad.