Daniela Cardim danced with the Dutch National Ballet in Amsterdam for 11 years and with Ballet do Theatro Municipal do Rio de Janeiro for 5 years. She was commissioned by Dutch National Ballet to create choreographic works for the company on three occasions.
In 2016 she created Uirapuru for Ballet do Theatro Municipal do Rio de Janeiro; the work was successfully received by both critics and audience. She also created works for São Paulo Companhia de Dança, Dutch National Ballet's School, School of American Ballet (as part of the New York Choreographic Institute) and the Liverpool Institute of Performing Arts.
Daniela holds a first class degree in Arts Management. She works with NEBT as Company Manager and Ballet Mistress. She is also one of NEBT's choreographers and created works for the company in 2014 and 2015. She was recently cited as 'new name to watch' by Dance Europe Magazine's Critics' Choice for these works.
Read Daniela's interview for Dance UK
Description of the ballet – Vertex
"Being Brazilian myself, researching music from my native country, I uncovered an undiscovered gem which I am delighted to explore with NEBT's energetic young dancers. The material was created in close collaboration with the dancers, finding the dynamic and the intention of the movements in response to the music and the mesmerising drawings of Anne Christopher RA."
Music: Camargo Guarnieri – String Quartet No. 2 played live by the Guildas Quartet
Number of dancers: 8
Duration: 16 minutes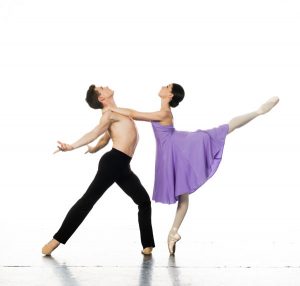 Daniella Cardim's Ballet 'Vertex'. Dancers: Riccardo Rodighiero and Hannah Sofo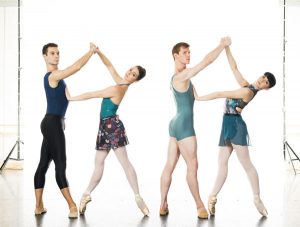 Daniella Cardim's Ballet 'Vertex'. Dancers: Giulio Galimberti, Nicola Henshall, Alexander Nuttall and Bethany Headland.