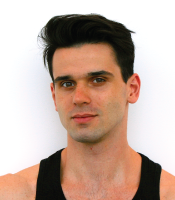 "I think I'm quite a lyrical and fluid dancer, but I always push and challenge myself to do new and different things. I love working in London; the dance heritage of this city is enormous."
György Baán
György studied at the Hungarian Dance Academy (2000-2007) and in the Palucca Schule Dresden (2007-2009). He then danced with the Ballet der Oper Graz in Austria (2009-2011) and with the National Ballet of Portugal (CNB) (2011-2012). He has worked on numerous contemporary projects in Budapest during 2013 before joining NEBT.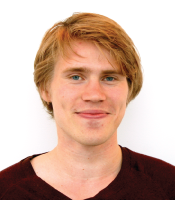 "It's always fun to be on stage, and if you're doing a good piece you want to show off a little! It's been great working directly with choreographers making new work – it's a rare opportunity for a young dancer."
Niklas Blomqvist
Niklas was born in Stockholm and trained at the Royal Swedish Ballet School. In 2010 he moved to Moscow and graduated from the Bolshoi Ballet Academy. Niklas has danced Peter Schaufuss Ballet, Royal Swedish Ballet, Ballet Ireland and NEBT. In 2014 he became Guest Artist with the Greek Northern Ballet.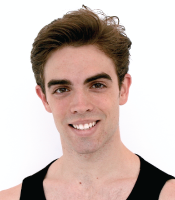 "I always wanted to be a dancer; I love to share my feelings through my movements and make people feel the same. I consider myself a very lucky person for living my dream; I just hope I never wake up!"
Ivan Delgado del Rio
Iván Delgado was born in Seville, Spain. He trained in the Conservatorio Profesional de Danza de Sevilla and in 2006, he won a one-year scholarship to the London Studio Centre. He has danced with the Scottish Ballet, Corella Ballet, Carmen Roche Ballet, New English Ballet Theatre, English National Ballet, and New Adventures performing Matthew Bourne´s Swan Lake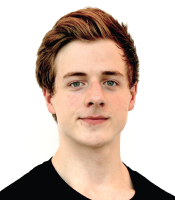 "I love doing what I do. That feeling of pure ecstasy when you're onstage, feeling strong and doing what you love is unlike no other feeling. It's addictive."
Paul Oliver
Born in Warrington, Paul joined the Royal Ballet School at the age of 12. At 16 he moved to Elmhurst School of Dance, while there he also performed with Birmingham Royal Ballet. After graduating Paul joined Ballet Ireland for their Tour of Swan Lake, in the role of Prince Siegfried.
"For me dance starts where speech ends. It is the soul expressed through the body. Dance is a physical and intellectual fulfilment for me. "
Matthieu Quincy
Born in Paris, France, Matthieu started training at the Académie Besso in Toulouse. Here he completed his studies with great success, and he regularly danced on regional and national stages. After graduation he worked with New English Ballet Theatre for the season 2013/2014 and then joined the Vanemuine Theatre in Estonia.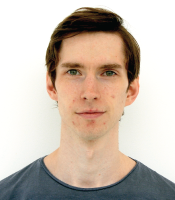 "Dance is important to me because it allows me to be creative and use my imagination."
Silas Stubbs
Silas was born in Gloucestershire and trained at the Elmhurst School for Dance, where he worked with Birmingham Royal Ballet in Romeo and Juliet and the Sleeping Beauty. Silas currently works as a soloist in Estonia for the Vanemuine Theatre Ballet where he has performed lead roles in Giselle, Sleeping Beauty, Onegin and the Nutcracker.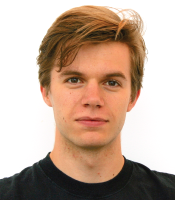 "I enjoy the daily physical challenge of dancing, and hearing the applause after a performance makes all the hard work worth it."
Josh Woodhams
Josh was born in Hampshire and trained at The Royal Ballet School and Elmhurst School for Dance. After Graduating in 2012, Josh joined the Vanemuine Theatre Ballet and performed with them for three seasons in a variety of shows. Such as Nutcracker, Sleeping Beauty, Phantom of the Opera, and Cabaret to name a few. Now, Josh has returned to the UK and is looking forward to pursuing his career in London.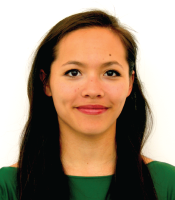 My mother was a ballet dancer and taught my sisters and me the importance of music for a dancer, I think that without music there is no inspiration. For me, music is the soul of my dancing.
Alexandra Cameron-Martin
Alexandra received several scholarships during her time at the Australian Ballet School. After relocating to London in 2012 she has performed Swan Lake and Romeo and Juliet with the English National Ballet at the Royal Albert Hall. Most recently Alexandra was chosen by Constella Ballet & Orchestra to dance the title role in Stravinsky's opera Renard choreographed by Erico Montes of the Royal Ballet.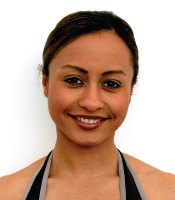 Dance, for me, provides a freedom of expression, the opportunity to immerse myself in different characters and music. I love it!
Chantelle Gotobed
Chantelle, who was born in Buckinghamshire, trained at the Royal Ballet School and performed with the Royal Ballet in London, Washington and Boston in 2006. In 2007 she joined Northern Ballet Theatre, performing in David Nixon's A Midsummer Night's Dream, Nutcracker and Hamlet. She has also performed with Ballet Black in works by Liam Scarlett, William Tuckett and had a pas de deux created for her by Christopher Marney. Chantelle recently completed a UK and international tour with Matthew Bourne's Swan Lake.
Chantelle has just finished a UK and international tour performing in ensemble and principal roles for Matthew Bourne's Swan Lake.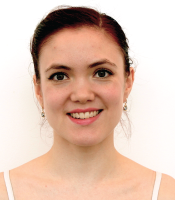 Dance is important to me because it is an art which allows me to express emotions and ideas in a way that can't be done with words.
Hayley Jean Blackburn
Hayley trained at The Royal Ballet School and joined Vanemuine Theatre Ballet performing roles such as Giselle, Raymonda and the Sugar Plum Fairy. She created the role of Aurora in Paar Isberg's production of The Sleeping Beauty and the role of Belle in Silas Stubbs' production of Beauty and the Beast.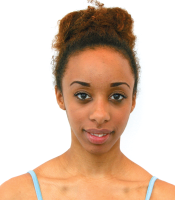 Ballet is an ingredient, something that I need, a bit like the air that we breathe and the food that we eat. It is necessary and even essential to survive. Constantly working on myself allows me to continuously improve and always go the extra mile.
Chloé Lopes Gomes
Chloé Lopes Gomes was born in Nice, France, and started to train at the conservatory of Nice at the age of 8. At 12, she moved to Marseille to study at the school of the Opera of Marseille (Rolland Petit). At 16, she won a scholarship to study at the Bolshoi ballet Academy in Moscow dancing in Le Corsaire, Raymonda, Pacquita and more. She joined the Bolshoi as an apprentice and then the Ballet of Nice; in September 2015 she is joining Béjart Ballet in Switzerland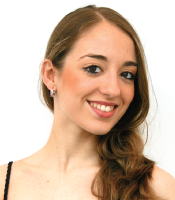 In any performance you have to try and try until you deliver something that is invisible to eyes - what the audience feels when seeing you dance is the most important thing.
Emma Lucibello
Italian-born Emma started dancing when she was only four years old; in 2009 she joined the school of the Teatro di danza dell'Opera di Roma, and was later offered a scholarship for Scuola del Balletto di Toscana directed by Cristina Bozzolini. In October 2012 she joined Yat-Sen Chang Dance Company (London), directed by Yat-Sen Chang (former Principal Dancer of English National Ballet).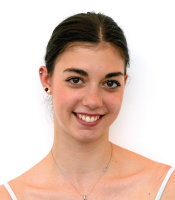 When I'm dancing, despite the pain or the tiredness I always have so much fun; the feeling and the adrenaline of when you are on stage is magical, special. I could never have enough of that.
Arianna Marchiori
Arianna was born in Padua, Italy. She started training when she was 10 with il Balletto di Castelfranco Veneto. At 16 she went to Boston Ballet and in 2013 she joined San Francisco Ballet. At 18 she came back to Europe and joined the Dortmund ballet, Germany.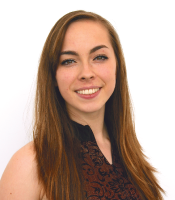 Ballet and dance are such beautiful gifts from God. I can't describe the joy in my heart when I dance. I want to be a dancer that can captivate an audience through a single step and with passion that pours out of every movement, making the unspoken emotion tangible. I am so excited to have this opportunity with NEBT!
Abigail Mattox
Born in California on March 31, 1997, Abigail spent her early childhood in Moscow, Russia. She began ballet at age 5 at The Nadezhda Russian Ballet School. At age 6 Abigail moved to California, continuing her training at the California Dance Theatre under Kim Maselli. In January 2005, Abigail moved to the island of Cyprus where she trained with Clea Pitsillidou School of Ballet for 6 years. Also, in 2006, Abigail was selected to train at the Limassol Municipal Dance Centre with Artistic Director Mr. Lambros Lambrou where she has trained for the past 9 years. The New English Ballet Theatre is Abigail's first opportunity to step into the professional ballet world.