Born in Brescia, Italy, Valentino trained at La Scala Ballet School in Milan and The Royal Ballet School, London, where he graduated in 2007. He then worked with Heinz Spoerli's Zurich Ballet for two years and Norwegian National Ballet for one year before joining The Royal Ballet in 2010 where he was promoted to soloist in 2012. During his dancing career he has created roles in ballets by Heinz Spoerli, David Dawson, Liam Scarlett and Christopher Wheeldon while working with many other choreographers including Nacho Duato, Jivrí Kylián, John Neumeier and William Forsythe.
Valentino's choreographic career started at the Royal Ballet School where he won the Ursula Moreton Choreographic Competition in 2006. Since then, he has created numerous pas de deux, solos and pieces for the Royal Ballet's Draft Works from 2011 to 2015. In collaboration with the composer, Philip Glass, and with the assistance of the Royal Opera House Music Department, Valentino developed the three movement ballet Orbital Motion, produced by New English Ballet Theatre with costumes by Emma Bailey.
Description of the ballet – Enticement's Lure
A lyric investigation of the character of two couples and 'temptation', which can sadly destroy relationships.
Music: Rachmaninoff – Trio Elegiaque No. 1 in G Minor played live by three musicians
Number of dancers: 5
Duration: 16 minutes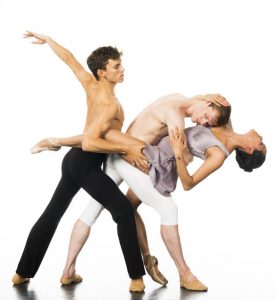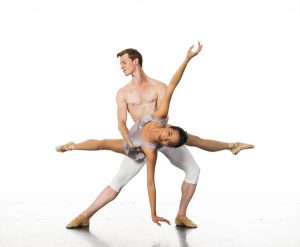 Valentino Zucchetti's Ballet 'Enticement's Lure'. Dancers Alexander Nuttall and Alex Cameron-Martin