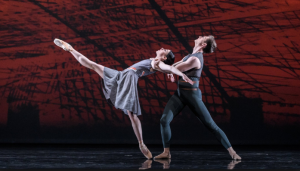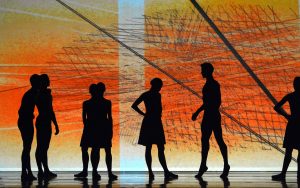 Photography by John Ross
Artwork by RA Ann Christopher projected onto rear screen at NEBT's Gala at the Peacock Theatre November 2016
Participating artists will have their work shown as part of a ballet and exhibited in the lobby of performances. An art programme is underway, and we expect to commission artists from BA and MA Fine Arts programmes, including: The Royal College of Art, The Royal Academy, Goldsmiths and Central St. Martins.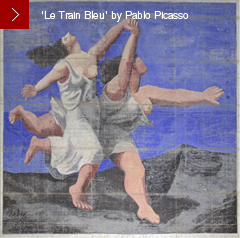 ARTISTIC ADVISORS
SUMARRIA LUNN  GALLERY

Following two years of innovative pop-up exhibitions in variety of central London
locations.  Sumarria  Lunn Gallery took up permanent residence in the heart of Mayfair
in 2011. The gallery is committed to supporting emerging artists – artists it has
championed sine its origins as pop-up- alongside rising starts and more established
names. The choice of artists is based ultimately on integrity. "The combination of
ability, rigor,  and ingenious concepts culminate in word we can believe in, work
we wantto present. "The gallery is run by will Lunn and vshal Sumarria.
VISHAL  SUMARRIA
Vishal Sumarria is graduate of the Collage of Fine Arts, UNSW(Sydney). He organized
his first show while studying in Sydney Curating  an exhibition  of contemporary
Australian art in Mumbai .
WILL LUNN
Will Lunn organized his first exhibition, including two internationally renowned
artists, aged 17. He is a graduate of the Courtauld  Institute of Art and prior to
becoming a curator and gallerist,  he has exhibited his own work under a pseudonym
both in England and abroad.
Any artists wishing to have their work projected as a backdrop to a new ballet, please email your image(s) to info@nebt.co.uk for consideration.